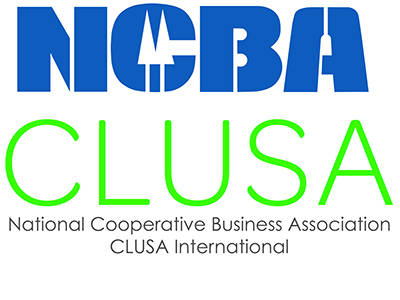 As the year draws to a close, we here at NCBA CLUSA extend warm holiday wishes to our members and cooperators around the world. We appreciate your continued support and involvement in the cooperative movement as we work to protect, promote and advance the cooperative business model.
Our work this past year has focused on strategic alignment with the Blueprint for a Cooperative Decade. NCBA CLUSA recognizes the Blueprint's importance and has focused on its role as convener, facilitator, and champion of the cooperative business model to better position the U.S. movement for a cooperative decade and beyond.
NCBA CLUSA continues to be the key voice for cooperatives—promoting and protecting the business model, facilitating cross-sector collaboration and taking a leadership role in cooperative development. NCBA CLUSA represented the co-op community on a sustainable development panel at UN headquarters in New York City and again at a UN Expert Working Group in Nairobi, Kenya, speaking about the role cooperatives play in economies around the world. We also increased our efforts before Congress and the Administration on issues that affect each cooperative sector, such as the Farm Bill and how FEMA relates to cooperative housing. We brought the co-op community together through NCBA CLUSA's Co-op Talks in Austin, TX; Madison, WI; and Denver, CO, and conferences in Minneapolis, MN, and Denver. During Co-op Month this past October, NCBA CLUSA provided a great opportunity to discuss the impact of cooperatives in the economy at the National Press Club, where we hosted a panel discussion featuring representatives from the USDA Rural Cooperative Development branch, National Cooperative Bank, U.S. Small Business Administration, Cooperative Development Center and NCBA CLUSA member Parent Cooperative Preschools International. We also provided the co-op community with webinars and educational experiences exploring topics critical to business success.
NCBA CLUSA led a research and education trip to Cuba to gain a clearer picture of the cooperative movement there. The resulting report was released as the U.S. president announced a major shift in U.S./Cuba diplomatic policy.
Impacting families and communities across 16 countries and 3 continents, NCBA CLUSA's international work continues to engage hundreds of thousands of people and provides the opportunity to use the cooperative business model to create vital market linkages that connect their small communities with the world economic engine. Our ongoing work in nutrition-led agriculture in Senegal, conservation farming in Uganda and youth empowerment in Kenya is all deeply rooted in cooperative principles and practices. Our highly successful Farmer-to-Farmer program has recently been expanded to El Salvador, offering NCBA CLUSA members with skills related to agriculture, marketing and small business practices the opportunity to share their expertise with future co-op leaders.
We look forward to an exciting 2015 filled with collaboration, partnerships and opportunities to listen to the needs of our communities, learn and apply best practices and lead the conversations on the benefits of cooperative living. On behalf of the NCBA CLUSA team, thank you again for your support and best wishes for the New Year!
Sincerely,
Mike Beall
President & CEO
NCBA CLUSA