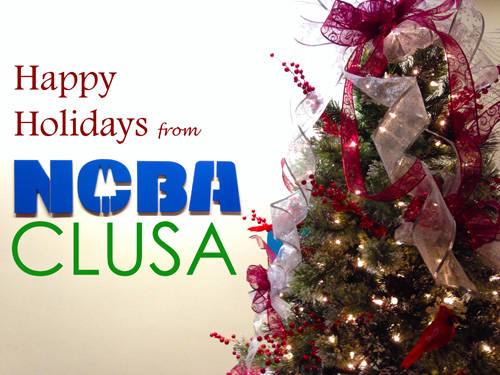 As the year draws to a close, we here at NCBA CLUSA extend warm holiday wishes to our members and cooperators around the world.  We appreciate your continued support and involvement in the cooperative movement as we continue to protect, promote, and advance the cooperative business model.
We worked aggressively this past year to improve and strengthen our financial performance, putting new systems, innovations, and policies in place to create a strong financial foundation. We increased our efforts before Congress and the Administration on issues that affect each cooperative sector. Our new website was launched with the purpose of providing a greatly enhanced platform that allows us to expand our capabilities and meet the needs of our members and the cooperative community as a whole. The Cooperative Business Journal was completely re-envisioned from the ground up to better fulfill its purpose of timely, relevant, and thought inspiring content that draws the cooperative community closer together. We also provided numerous webinars, training programs, and educational experiences aimed at enhancing cross sector collaboration.
We celebrated 60 years of international development work and coincidentally had one of the best years in our history. We hit our stride on many of our successful programs, impacting millions of client families and communities across 14 countries and three continents. Just before the end of the year NCBA CLUSA was asked by the United States Agency for International Development (USAID) to work with the people of Niger and Burkina Faso to improve the lives of more than 2 million people through a 5 year, $70 million grant.
We look forward to an exciting 2014, filled with increased collaboration, partnerships, and opportunities to listen to the needs of our communities, learn and apply best practices, and lead the conversations on the benefits of cooperative living. Thank you again for your support and best wishes for the New Year!Sincerely,

Mike Beall

President & CEO

NCBA CLUSA