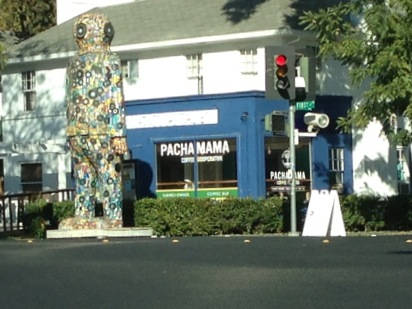 Americas' First Farmer-Owned Café Brews the Cream of the Crop
The country's first farmer-owned espresso bar recently opened in November 2013, serving American consumers freshly brewed coffee directly from small-scale farmers in Peru, Guatemala, Nicaragua, Mexico and Ethiopia. An initiative of the Pachamama Coffee Cooperative of Small-Scale Coffee Producers, the Davis café is 100% owned and governed by the farmers themselves.
"Who's your farmer?" is a question that Pachamama answers. In contrast to the typical café, Pachamama is a fully integrated supply chain that empowers coffee farmers to import, roast, brand, and serve their best coffee directly to consumers – one cup at a time. This authentic, grassroots connection with the end user in the market chain allows farmers to tell their own story.
"This is our dream come true: to sell our best coffee directly to consumers under our own brand," states Merling Preza of PRODECOOP cooperative in Nicaragua, and the president of Pachamama.
Established in 2001, Pachamama Coffee Cooperative is based in Sacramento and distributes farmer-owned coffee to food cooperatives throughout the United States. As a marketing cooperative, similar to Organic Valley, Pachamama empowers farmers to differentiate outside of the commodity crop model and deal directly with US customers in a vertically integrated, farm-direct model.
"Folks love our coffee and they value a true, genuine connection to their farmer," notes Thaleon Tremain, general manager of Pachamama, who adds, "it makes sense… the closer you get to the farmer, the better the produce and the happier the farmer. It's a virtuous circle."
Pachamama's Davis Coffee Bar is located at 521 First Street in downtown Davis, CA, a vibrant college town and the heart of the cooperative movement in California.
"The Davis Food Co-op has been overwhelmingly supportive of our farmers", adds Mollie Moisan, Pachamama's Director of Outreach. "We are thrilled to be building on our local partnerships to meet the demands of the Farm to Fork community in northern California."
About Pachamama Coffee CooperativePachamama's member cooperatives are: COCLA of Peru, PRODECOOP of Nicaragua, Manos Campesinas of Guatemala, OCFCU of Ethiopia and La Union Regional of Mexico. Learn more at www.pacha.coop/farmers.

Pachamama Coffee Cooperative of Small-Scale Coffee Producers (www.pacha.coop), established in 2001, is a farmer-owned company based in Sacramento, California and the hub of a worldwide collaborative of thousands of coffee farmers. Pachamama is the only global farmer-owned co-op based in the US and is the first coffee company to use information technology (www.TraceableCoffee.org) that enables coffee farmers tell their own stories to consumers. All coffees are certified organic, hand-roasted in small batches and available at over 100 independent cafés and cooperative grocery retailers throughout the United States. In 2011, Pachamama launched the first global Community Supported Agriculture (C.S.A.) program for coffee (CoffeeCSA.org), which offers members the convenience of freshly roasted organic coffee, delivered straight to their doorsteps.