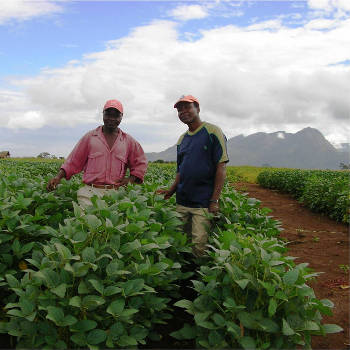 "Empowering Small Scale Farmers"
NCBA CLUSA is committed to the successful development of producer organizations in Mozambique and believes that empowering local farmers ultimately leads to stronger, more food secure communities. In Mozambique, NCBA CLUSA has an impressive track record of high-outcome continuous operations since it began working in country after the civil war, in 1995. To date, NCBA CLUSA's on-going agriculture/food security and market development activities has benefited over 100,000 small producers in 5 different provinces in Mozambique.
Project: OXFAM Novib| Development of a Producer Owned Trading Company in Niassa, Mozambique Sector: Food Security and Agriculture
NCBA CLUSA, in partnership with Oxfam Netherlands, implemented this three year, $1.7 million dollar project and provided investment, technical assistance, volunteer services, and training to establish and strengthen ALIMI—a sustainable and successful farmer-controlled trading company.
ALIMI represents members from local associations from six districts in the Niassa province of Mozambique, and represents approximately 13,000 farmers, organized into 50 zonal unions and 417 associations. As an agricultural cooperative, ALIMI provides improved extension services to small scale farmers, including increasing access to inputs and credit and creating marketing and processing opportunities for local farmers. ALIMI's current membership of 424 farmers markets sesame, pigeon peas, soybeans, mung beans, maize, tobacco, cotton and ground nuts.
NCBA CLUSA successfully engaged civil society and the Government of Mozambique to improve cooperative laws. Through NCBA CLUSA's efforts, a comprehensive new Cooperative Law was passed in 2009 and ALIMI Limited Responsibility Cooperative (Coop. RL) became the first officially registered cooperative.
ALIMI is an established and self-sufficient local entity that adheres to good business practices – increasing farmer income through higher farm gate prices and greater productivity levels. The organization enables farmers to retain ownership and local control over the marketing of their produce and provides access to higher value regional, Asian, and European markets. The company's Board of Directors and management team have benefited from NCBA CLUSA's technical assistance in building the organization's capacity to drive the up the profitability of the cooperative. The successful emergence of ALIMI as a new trading entity in southern Niassa is a critical element that links and empowers small farmer organizations.