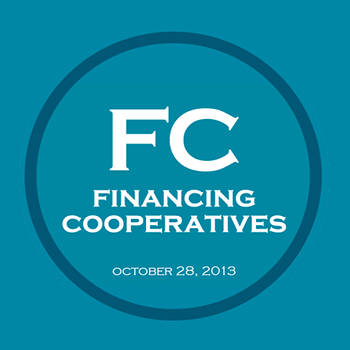 The Chicago Community Loan Fund (CCLF), the Center for Workplace Democracy (CWD) and the Federal Reserve Bank of Chicago sponsored a workshop on financing worker cooperatives on October 28, 2013. Held at the Fed in downtown Chicago, the program featured worker cooperative leaders and coop financing consultants.
Several dozen people attended the program designed to educate bankers, lenders and community development professionals about the unique qualities and characteristics of worker-owned and operated businesses.
Marva Williams of the Federal Reserve and Mark Fick of CCLF and CWD welcomed participants and discussed the values and advantages of worker coop businesses in communities: Workplaces that are meaningful and empowering, enterprises that anchor jobs and dollars in the community, wealth building for members, leadership development opportunities, and employment stability.
A veteran coop developer who led the Northcountry Cooperative Development Fund for many years, Margaret Lund kicked off the program saying, "I'm here to put lenders at ease about working with coops. I love coops – they are sound businesses who pay off their loans."
Lund said that the strengths of coops relative to other forms of businesses have to do with their values and their by-laws that embody high levels of accountability both internally to their members, and externally to their customers and their community. She also pointed out that cooperation among coops, strong customer loyalty and national and regional support organizations tend to strengthen their business position.
"Has anyone heard about cooperation among small business competitors? I don't think so," said Lund, adding, "Coops are not alone. This makes conditions for coops superior to entrepreneurial businesses."
She suggested that loan officers and underwriters consider these strong institutional relationships, together with future business contracts with customers, as proxies for commitments to the business in lieu of personal guarantees, which can be problematic in a coop where each member has an equal ownership share and an equal vote.
Roy Messing of the Ohio Employee Ownership Center gave a presentation about converting traditional businesses into employee-owned enterprises. The OEOC helps owners of profitable, closely held companies who want to retire but have no family member or investor to purchase the enterprise sell the business to their employees. The business could be structured as a worker cooperative or an ESOP, Employee Stock Ownership Plan.
"Creating jobs is an important aspect of community development, but retaining jobs is even more important," said Messing as he explained the benefits to the owner and to the community of converting the company to a worker-owned enterprise. He also described some of the challenges to funding and negotiating the conversion, which could include a lack of trust between the owner and the workers, the owner being too closely identified with the business, and difficulty obtaining financing.
Victor Cortez of Salsedo Press, a worker cooperative printing company in Chicago, and Rebecca Kemble of Union Cab of Madison, Wisconsin also addressed the group. They discussed the joys and challenges of being a worker-owner in a democratically run business, as well as the importance that values and mission have in their coops.
Since maximization of financial profit is not the driving force in worker coops, business decisions are made according to the needs and values determined by the members. Cortez noted that worker participation in decision-making processes leads to long, sometimes difficult meetings, but the resulting benefits to the coop are worth it. "The more we know about the business the better decisions we make," he said.
Kemble described how Union Cab was born in 1979 after workers went on strike at the former taxi company and the owner shut it down. With help from the City of Madison, who put together a financing package that included community development funds and commercial loans, the founding coop members raised equity from among their friends and family to get the cab company up and running in less than a year.She described how worker involvement in governance and management spurred Union Cab convert most of the fleet to hybrid vehicles, and led to the development of innovate peer review accountability systems.

Kemble, who serves as the President of the U.S. Federation of Worker Cooperatives, also related stories of cooperatives that have had difficulty getting the financing they required for growth and start-up. She also said that the worker coop movement in the U.S. is disadvantaged by the lack of national-level legislation that would establish a coop development fund – something that has been critical to the success of worker coops in countries where they are now strong.

Member of the Center for Workplace Democracy Board of Directors, G. Sequane Lawrence, closed the session by thanking the attendees and announcing that the U.S. Federation for Worker Cooperative biennial conference will be held in Chicago next year.