East Timor: President of Timor-Lesté and US Ambassador Dedicate NCBA CLUSA Supported Training Center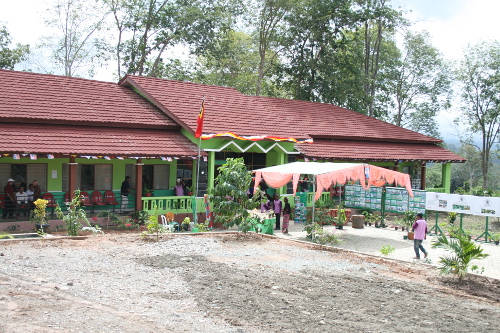 June 10, 2013
Contact: John Torres
 jtorres@ncbaclusa.coop
202.383.5452
(DILI, TIMOR-LESTE) – Recognizing nearly 20 years of collaboration between the United States Agency for International Development (USAID) and the National Cooperative Business Association CLUSA International (NCBA CLUSA), U.S. Ambassador Judith Fergin, along with Timor-Leste President Taur Matan Ruak, dedicated a newly built research and training center in the mountains just outside Timor-Leste's capital city of Dili.
"Today we are inaugurating a facility that enable Timor-Leste's farmers to increase their productivity, raise their incomes, and benefit their families. May I express my sincere congratulations to all the organizations and people who are making the dream come true," stated Ambassador Fergin.
This training center will accelerate the continued improvement of Timor-Leste's coffee crops and provide instruction in cooperative learning to better educate the farmers in cooperative practices and methodologies. The 17 hectares on which the training center is built was donated by the Diocese of Dili.
The collaboration of USAID and NCBA CLUSA in 1994 brought about the first project to aid coffee farmers in the mountains of Timor-Leste, providing much needed assistance to coffee farmers to increase their incomes and provide a better quality of life for their families. Out of this project, the Cooperative Café Timor (CCT), one of the largest single employer of coffee farmers in the country, with more than 21,000 members.
"Agriculture has always been a major source of national wealth and employment for both Americans and Timorese. In both countries, the introduction of new technologies has allowed farmers to become more and more productive," said Ambassador Fergin during the dedication. "In both countries, the productivity of our agricultural sectors has a direct impact on our citizens' health, nutrition, and incomes."
The success of the CCT has spread as it diversified into other crops and livestock. In all of its endeavors, CCT focuses on supporting farmers to increase the quality and volume of their output and guaranteeing a market for their product.
"This wonderful center is a testament to NCBA CLUSA's long-term commitment to the farmers and people of Timor-Leste, and marks a new level of building capacity of the country's agricultural sector to grow and thrive," said Mike Beall, president of NCBA CLUSA.Additional attendees included Reverend Bishop of Dili Alberto Ricardo da Silva, the New Zealand Ambassador to Timor-Leste Tony Fautua, USAID Director Rick Scott, Chairman of the CCT Board Amaral dos Reis, and NCBA CLUSA Regional Director Sam Filiaci.The National Cooperative Business Association CLUSA International (NCBA CLUSA) is the apex association for cooperative businesses in the United States and an international development organization. NCBA CLUSA provides cross-sector education, support, and advocacy that helps co-ops thrive. For nearly 100 years NCBA CLUSA has sought to advance and protect cooperative enterprises, highlighting the impact that cooperatives in bettering the lives of individuals and families. In the last 60 years, NCBA CLUSA has grown its international development portfolio to over $34 million of active programs in 14 countries.

###