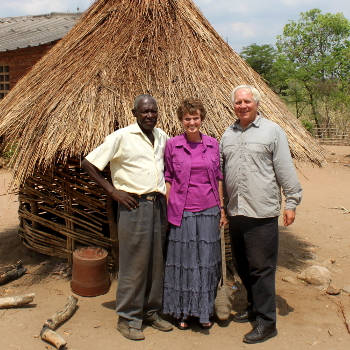 NCBA CLUSA is pleased to host Steve Laible on his second Farmer-to-Farmer volunteer assignment in Zambia. Mr. Laible will be working with a Zambian organization called the Agricultural Commodities Marketing Program (ACOMAP) to help develop their business management skills. Mr. Laible's first assignment in 2012 focused on introducing improved peanut butter production techniques to the farmers ACOMAP serves. Farmer-to-Farmer Program Manager Eric Wallace said, "We're very excited to be hosting Steve on another Farmer-to-Farmer volunteer assignment. Steve's analytical mind and generous heart make him a real asset to our program."
Along with his wife Nancy, Mr. Laible is the founder and director of Education and Technology (EAT) centers in Bangladesh, India and Vietnam. The EAT center initiative is designed to help people use post- harvest processing technologies provided by NCBA CLUSA partner organization Compatible Technology International to improve their food security and nutrition, mainly through production of peanut butter.
Mr. Laible lives in New Brighton, Minnesota. Steve's volunteer assignment is made possible through the generous support of USAID and ACDI/VOCA.