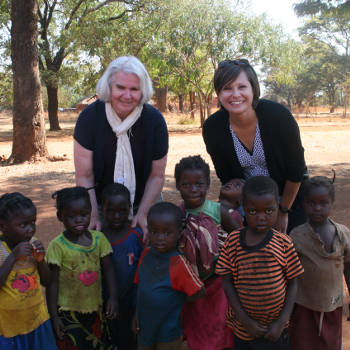 NCBA CLUSA had the opportunity to chat with Farmer-to-Farmer volunteer Brittany Jablonsky, a member of NCBA CLUSA's Board of Directors and Director of Advocacy Communications with National Farmers Union, following her assignment in Zambia. She recounts her experience with fellow volunteer Ellen Linderman, a senior member of the North Dakota Farmers Union. The two returned in July 2013 from a volunteer assignment working with the Chipata District Farmers Association and the Community Oriented Development Program to improve the marketing of their farmer members' crops. The Chipata District Farmers Association (CDFA) recently registered as a cooperative in Zambia, with the help of a previous Farmer-to-Farmer volunteer and National Farmers Union Board member.
What was your overall impression of the experience? Do you think the Farmer-to-Farmer program is a good idea?
Absolutely! I think it is just as a valuable for U.S. farmers as it is for farmers in the developing world because now you have two more people who can be advocates here in the U.S. and really have a much better understanding of some of the challenges that the developing world faces. I was always interested in these issues but I didn't know much about them and certainly wasn't able to talk about them from a firsthand perspective.
You said you grew up on a farm?
I did. I grew up on a farm in North Dakota. We had wheat and beef cattle. It was a very different scale and that is the thing that was so interesting; farmers everywhere face the same issues: risk management problems, credit problems, difficulty accessing markets, and determining which markets are most appropriate and will be the most lucrative. Those are challenges farmers everywhere face no matter where you are.
From that perspective, why did you personally decide to do this?
I was really interested in seeing how the exact opposite kind of agriculture from our U.S. production really worked on a very fundamental level and the relationship with the global system. We (National Farmers Union) work a lot on policy issues that are mostly domestic, but our food system is global. You hear things about how the policies in one country impacts another but you don't get firsthand knowledge of that, it's very anecdotal and hard to understand.
We learned a lot from the farmers about how the system works, the government's role in agriculture, and how they interact with neighboring countries via exports. I got a much better understanding of how the system works together.
What was your assignment on this trip?
We were given marketing assignments. We talked with local staff beforehand to learn what the best information was that we could convey while we were there. We mostly covered very basic marketing concepts, talking about what products bring you the most money in the market, what specific markets are most lucrative for certain products, and getting folks to start thinking about the idea of profit and record keeping as a necessary way of understanding or knowing what the best things are to continue or expand into new markets. We also talked about marketing concepts like identifying new customers, providing the customers with what they want and how to meet some of those needs.
Did you find it difficult to do the teaching?
Absolutely, I didn't know how to exactly fill their needs; I didn't want to be too simplistic but I also didn't know what level the farmers were at and wanted to be easy to understand. I just wanted it to be useful for them in some way. That was a bit challenging but overall everyone was interested. We typically taught in classrooms to 15-30 people but sometimes we were outside, one class was outside under a fig tree in the middle of a village with pigs and chickens and goats roaming around us – it was pretty amazing!
What kind of farms did you see? How was the product?
It was astonishing to me how many different things they were growing. They had very diversified operations. We would start every session with the farmers listing some of the things that they grow and it was many things. It's good because you can access different markets if one is not doing well. Some of the things they were growing they don't get a lot of money for, so why don't you not grow that and grow something else. What we learned is that people grow what their neighbors grow without a lot of thought put into the question of 'Can I really make money off of this?'
Throughout all the conversations that you had and trainings that you led, what did you see was the most common challenge that the farmers face?
Transportation is a huge challenge and just the lack of mechanization, the time it takes to do things really limits your ability to actually harvest the things that you grow and plant everything. Chipata may be a more lucrative market than some of the local villages but if you're several kilometers away it is incredibly time consuming to get products to market.
Did you encounter a lot of gender issues and how were you perceived as a woman going there and teaching?
Some of the farmers who we met with who are leaders in CDFA in particular were women. That was  really encouraging. I was surprised in a way to see that some of the leaders were women. In a lot of our meetings the men and women sat separately and had their own little conversations going on but both were very much engaged. It seemed to me that the people who were really engaged in the meeting, regardless of gender, were more educated; they were asking questions that were technical in nature, a little more specific, they knew what to ask compared to the farmers that weren't as educated who didn't interact as much.
It was very important that Ellen in particular was able to be a part of the experience because she herself is a leader in her organization here in the U.S. and she and her husband farm together, she does all the farm labor just as much as he does. We passed around pictures of our farms here in the U.S. and one is of Ellen driving the combine and some of the farmers didn't believe it was her. She told them that this is very much part of what she does on the farm and that was important just so people know women are out in the field doing this work.
On a more personal note, what do you feel impressed you the most?The thing that I enjoyed the most was the meeting we had outside. I loved that we were right in the middle of the village, everyone's houses were around us so people were welcoming you into their homes in a way and into their neighborhood. Everyone was so welcoming the entire trip. At the end of that meeting the farmers there sang us a song in appreciation. I just really loved that they sang us a song and asked us to come dance with them. You made these instant friends and that was awesome.All in all, what was the largest takeaway that you had from this whole experience?

Two things, one is just that the bulk of the issues they face are what we faced in the U.S. 100 years ago, trying to scale up, addressing mechanization and market access issues. Co-ops are a huge part of that. National Farmers Union was founded in 1902 and started its first co-op in 1906 and that really paved the way for the farmer-owned movements and provided some great economic benefits for our members and to farmers all over the country. I see the same issues and the same need, it would be interesting to be able to see how things change in the next 50 years.

The other thing is just how important education is. A lot of the challenges that farmers in Zambia face could be solved or alleviated through greater education opportunities, both formal and informal. The government has a role in encouraging greater education, there's a need for a much greater effort.

So now that you've had this experience, what are your thoughts on the Farmer-to-Farmer program?

I think it is great. It was an incredibly valuable experience. It obviously has its limitations; we had such a small amount of time with every group that was very challenging. It would be nice to do an ongoing project with the same group of farmers to be able to do a series of workshops that they needed and really be able to see some of the impacts of the trainings. All in all I thought it was an incredible opportunity and an incredible program.

Who would you recommend to go on a trip like this?

I would say anyone who is interested in global issues and the intersection of U.S. agriculture with farmers across the world. You have to have a flexible personality and be able to adapt to the situation because we didn't know a lot about the farmers we would be meeting with when we got there. Farmers in the U.S. have an incredible amount of knowledge and can use their experiences finding markets and  dealing with storage issues, all of those things are the perfect analogy for issues that the farmers in Zambia were facing just on a different scale.

###