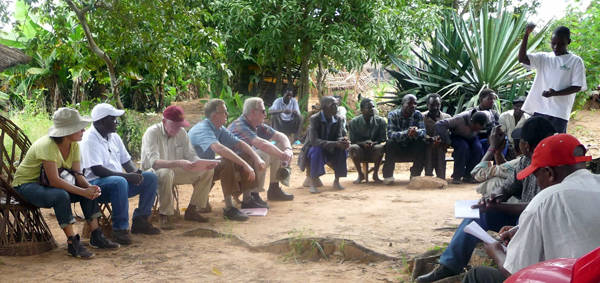 On Wednesday, April 2 a renewed agreement of the United States Agency for International Development (USAID) funded Farmer-to-Farmer (F2F) program was launched at NCBA CLUSA's project office in Dakar, Senegal, ensuring the program will continue for an additional five years.  Senegalese Ministry officials and representatives of USAID were present at this event, denoting the importance the local government places on this highly successful development program. This program is being implemented by ACDI/VOCA in key partnership with NCBA CLUSA.
The F2F program provides the opportunity for American farmers and agribusiness professionals to assist farmers in Senegal focusing on three key sectors: Horticulture, Millet Value Chain, and Environmental Conservation. The volunteers will be working in the regions of Kaolack (central) and Matam (northeast) areas of Senegal.
A common problem facing Senegalese farmers is depleting soil fertility, which affects crop yields.  F2F volunteers worked with over 500 millet and vegetable farmers in various regions of Senegal to demonstrate how to develop compost. They also explained to the farmers the importance of using compost and how it can improve the soil and crop production.  As a result of applying the new composting techniques, farmers reported seeing an increase in crop yields by more than 30 percent in the next growing season.  By providing these farmers the technical assistance needed to boost soil fertility and yields, farmers improve their food security and increased household incomes.
NCBA CLUSA will be sending an estimated 20 of these volunteers each year over the next five years.  Assignments are short-term, usually lasting for 2-3 weeks, and participants will work with program partners and host organizations that specialize in the three key areas mentioned above.
The goal of this program is to provide short-term technical assistance to Senegalese farmers and entrepreneurs, helping them gain new business skills and market connections. F2F will further help to nurture the country's agricultural sector at the grassroots level, working to boost market competition and rural households' incomes.
Officially begun in October of 2013, this program is funded by USAID via NCBA CLUSA partner ACDI/VOCA for $1.4 million USD over 5 years. 
For information on how you can volunteer for this exciting and rewarding program, contact Jane Podolsky, Program Manager at jpodolsky@ncbaclusa.coop or call 202-383-6222.