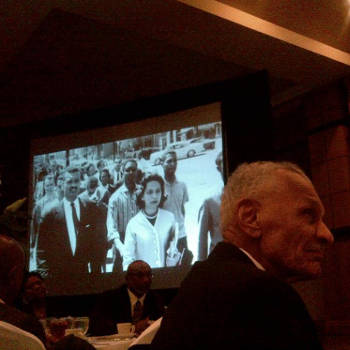 On Friday, August 16, 2013 the Federation of Southern Cooperatives/Land Assistance Fund held their 12th Estelle Witherspoon Lifetime Achievement Award Dinner and 46th Anniversary Celebration. Serving as Honorary Chairman for the 46th Annual Celebration Activities was NCBA CLUSA board member, William J. Nelson, vice president of Corporate Citizenship for CHS Inc. and president of the CHS Foundation. Also in attendance from NCBA CLUSA were Wilson Beebe, board chair and president of Thanexus, Inc.; Michael Beall, president and CEO; R.L. Condra, vice president of advocacy; and Tom Decker, director of domestic cooperative development.
Being honored as the 2013 recipient of the Estelle Witherspoon Lifetime Achievement Award was The Reverend C. T. Vivian. Reverend Vivian's accomplishments are far too numerous to mention here, but he is best known for his work with Dr. Martin Luther King, Jr. While serving with Dr. King he was national director of affiliates and strategist for every Southern Christian Leadership Conference (S.C.L.C.) organization. His work in Birmingham helped win the Civil Rights Bill; in Selma, the Voting Rights Bill; and he was deeply involved in other movements in Nashville, TN; Danville, VA; St. Augustine, FL; and Chicago, IL. Dr. Vivian won his first non-violent direct action movement in 1947 opening restaurants in Peoria, IL.
The Federation's 46th Annual meeting was held in Epes, Alabama at the Rural Training and Research Center. The two-day meeting included a number of workshops and plenaries focusing on the ongoing Farm Bill negotiations, cooperative and rural development programs, and an update from USDA.
NCBA CLUSA is proud of its longtime association and collaboration with the Federation of Southern Cooperatives/Land Assistance Fund and looks forward to supporting the organization in its very important work. Please join us in congratulating The Reverend C. T. Vivian, as well as the Federation's executive director Ralph Paige and director of field operations Cornelius Blanding, both of whom are NCBA CLUSA board members.