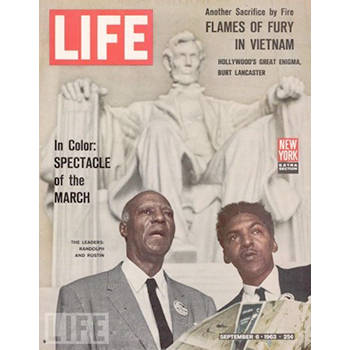 By David Thompson
Velma Hill remembers the genesis of the 1963 "March on Washington" very well, even in August of 2013.
"We met in Bayard Rustin's co-op apartment at Penn South in New York City in early 1963. That night Tom Kahn and my husband Norm Hill and I, under Bayard's guidance, crafted the concept for what soon became known as "The March on Washington for Jobs and Freedom."
Not long after, Rachelle Horowitz, another Penn South co-op member became another early organizer of the March. That spring and summer, Rachelle Horowitz's one bedroom co-op apartment at Penn South became a Civil Rights Hostel. Working on the "March" and staying with her in her co-op apartment at various times were; John Lewis, now a congress member and the only living speaker from the 1963 March, Eleanor Holmes Norton, now the congress member for Washington, DC, Joyce & Dorie Ladner, two sisters who were activists from SNCC (Southern Nonviolent Coordinating Committee) and a young singer called Dylan.
The 2,820 unit Penn South Co-op ousing Cooperative was sponsored by thwas sponsored by the International Ladies' Garment Workers' Union (ILGWU). Speaking at its opening in 1962 were President Kennedy, former First Lady Eleanor Roosevelt, Governor Nelson Rockefeller, NYC Mayor Robert Wagner and others. The Penn South Co-op soon became home to many labor activists and civil rights advocates. In 1964, with Bayard's help, Ernest Green moved into the Penn South Co-op. Green was one of the students (The Little Rock Nine) who integrated the all white Little Rock Central High School in 1957 under the federal protection of President Eisenhower.
"During the 1960s we all lived or stayed at the Penn South Co-op. Norm and I still do," says co-op member Velma Hill proudly. Norm and Velma Hill have committed their lives to labor and civil rights issues.
The 2013 commemoration of two events that occurred in 1963 will mark the 50th anniversary of the Civil Rights Movement in America. Yet, 1963 was both a high and a low moment in race relations in America.
The high occurred on August 28th, 1963. "The March on Washington" that Norm and Velma Hill helped to birth, brought over 250,000 people to Washington, DC to demand jobs and freedom for African Americans. The spectacle of so many Americans of all colors, peaceably gathered in front of the Lincoln Memorial, will stand forevermore. The stirring event concluded with Martin Luther King Jr's majestic "I Have a Dream" speech. The 'March" made an indelible imprint on America's conscience.
The low point of the year was the September 15th killing of four young black girls attending the 16th Street Baptist Church in Birmingham, Alabama. Segregationists had planted the deadly bombs. The deaths sent the nation into shock and mourning. The two different events in 1963 demanded that America must change.It would be a long time before African Americans obtained their full rights as citizens. Yet, much earlier, cooperatives on both sides of the Atlantic Ocean proudly provided African-Americans with both economic power and voting rights. Today, newer cooperatives continue to fight for economic democracy and build community.

David J. Thompson is writing a book entitled "Cooperatives and the Civil Rights Movement." due for publication in 2015. He is President of the Twin Pines Cooperative Foundation.