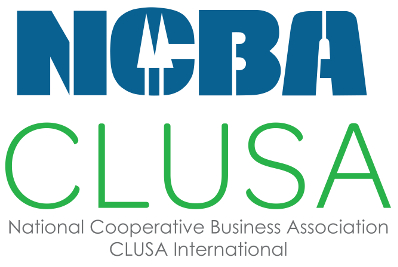 The NCBA CLUSA Board election is handled online electronically, through VoteNet, which offers a secure and cost effective platform for election services. It also reflects our deep commitment to social and environmental responsibility since online products offer a fast and efficient green alternative to the traditional expensive and time consuming paper based balloting systems.
The results of the Board election are announced at the Annual Business Meeting; and this year it will be held on November 12, 2013 in Washington, D.C.
Elections Open October 1, 2013

The NCBA Board of Director elections are now open. The ballot is available until October 31, 2013. Please email membership@ncbaclusa.coop to receive VoteNet login credentials.
Meet the Candidates

Linda Brockway

Linda Brockway is currently the Treasurer of the National Association of Housing Cooperatives, Inc., and has served on the Board of Directors since October 2000.
Ms. Brockway is the President of Economic Consultants for Housing Opportunities, Inc. Economic Consultants for Housing Opportunities, Inc. (ECHO, Inc.) is a full service Homeownership / Economic Development Consulting Firm that works with Residents, Housing Authorities, Cooperatives, City Governments, County Governments, Non-Profit Organizations, Financial Institutions, United States Department of Housing and Urban Development, and other organizations to develop Strategic Plans, Self Sufficiency Programs, Welfare Reform Programs, Economic Development, Homeownership Programs and other self sustaining programs for low income families to support the development of affordable housing, including the development of housing cooperatives.
ECHO, Inc. has written and received over 90 grants totaling over $7,000,000.00 from grant funds. ECHO, Inc. assists nonprofit organizations, cooperatives, public housing authorities, and local units of government in writing grants, to assist local residents.
Ms. Brockway has been working directly as a national speaker for the United States Department of Housing and Urban Development to train and work with the agencies to provide the successful development of homeownership opportunities.
Ms. Brockway has also spoken for the National Association of Housing Cooperatives, Midwest Association of Housing Cooperatives, The National Association of Housing and Redevelopment Officials, NCBA, and numerous local associations. Ms. Brockway has also worked to develop the governance training course, mortgage pay off course and strategic planning courses, which are offered by NAHC.
Read Linda Brockway's Candidate Statement
Erbin Crowell

Erbin Crowell serves as executive director of the Neighboring Food Co-op Association, a regional federation of food co-ops and start-up initiatives in New England. For over a decade he was a member of Equal Exchange, continuing his career in co-ops with the Cooperative Fund of New England, the Cooperative Development Institute, and the Valley Alliance of Worker Co-ops. Erbin has taught courses on the co-operative movement at the Universities of Connecticut and Massachusetts, serves on the board of the New England Farmers Union and is a founding board member of the Valley Co-operative Business Association, a regional, cross-sector federation of co-ops and credit unions. He received his Master in Management: Co-operatives & Credit Unions from St. Mary's University in Nova Scotia, thanks to a scholarship from the National Co-operative Bank (NCB). Erbin lives in western Massachusetts with his partner Kristin and their son Elias. He may be contacted at erbin@nfca.coop.
Read Erbin Crowell's Candidate Statement
Melissa Hoover

Melissa Hoover is the Executive Director of the United States Federation of Worker Cooperatives and a founding director of the Democracy at Work Institute, the nonprofit education and training organization for worker cooperatives. For five years, Melissa also worked with the Arizmendi Association of Cooperatives in the San Francisco Bay Area as a cooperative developer, helping start two new worker cooperatives and providing training and support in financial management for all Arizmendi cooperatives. Prior to that she worked as a consultant with worker cooperatives and other small businesses on setting up good financial systems. Melissa got her start in cooperatives at Inkworks Press in Berkeley and served as part of the management group there. She currently serves on the Board of Directors of the Northcountry Cooperative Development Fund and the ICA Group in Boston. Melissa holds a B.A. in History from Stanford University, where she lived in a housing cooperative and did independent research on immigrant women's contributions to the US cooperative movement of the 1920s and 1930s.
Read Melissa Hoover's Candidate Statement
Ann Hoyt

Dr. Ann Hoyt, a professor of Consumer Science at the University of Wisconsin-Madison and a Consumer Cooperative Specialist at the University of Wisconsin-Extension, has extensive experience with cooperatives as an educator, researcher, director and manager. She has served as a director of numerous cooperatives and cooperative foundations. A significant part of her work at the University of Wisconsin has focused on governance. This includes training hundreds of directors, introducing new governance systems to the cooperative movement, and development of extensive director training materials. She has worked with a wide variety of cooperatives including consumer goods, health care, purchasing, worker-owned, insurance, rural electric, farm supply and credit unions. She has been the director of the Annual Conference of the Consumer Cooperative Management Association for 25 years, was the Board Chair of the UW Credit Union (UWCU) for 9 years. The UWCU is a nearly $1.7 billion credit union with over 185,000 members. Ann was a Co-Investigator on the University of Wisconsin study of the economic impact of US cooperatives. She has often presented her research at international cooperative research conferences and currently is one of an 11 member international Steering Committee for the International Cooperative Alliance's Global Cooperative Monitor. An NCBA Board member since 1992, Ann has served on nearly every NCBA committee, has been the Board Chair, has represented NCBA at meetings throughout the world and has had extensive experience with NCBA's international development programs.
Read Ann Hoyt's Candidate Statement
Randy Karnes

Since 1994, Mr. Karnes has been CEO of CU*Answers, a credit union-owned CUSO that provides core processing, consulting, management, and technology services. Active in the credit union industry since 1985, Mr. Karnes serves on the Boards of Callahan & Associates and eDOC Innovations.
Mr. Karnes has an infectious vision and drive for bringing credit unions together to explore the power of collaboration in entirely new ways. His enthusiasm for imagining and building new business models has changed the way many credit unions are approaching serving their members.
The first-ever two-time winner of the NACUSO CUSO of the Year award, CU*Answers directly serves over 175 credit unions and 1.6 million members through its core operations and services. As the catalyst and driving force behind cuasterisk.com, a network alliance of credit union vested CUSOs, CU*Answers daily reaches out to over 600 credit unions and 6 million members.
Karnes attributes his success to a passion for the cooperative design and what it allows people to do together. "I believe a 'we' approach always gives the best advantage to accomplishing any goal," says Karnes. "When you adopt the agendas of others, your path to success is jam-packed with things to do."
Karnes is the driving force behind an industry initiative to adopt a new metric to measure how a credit union puts cooperative principles into action. The Cooperative Score index is spurring credit unions to take a fresh look at the competitive advantage that being a cooperative gives them to make a difference in the lives of members and communities.
Read Randy Karnes' Candidate Statement
Jerry McGeorge

Jerry McGeorge has been with CROPP Cooperative/Organic Valley for the past sixteen years. He has held numerous positions with the cooperative; currently McGeorge holds the title of Vice President of Cooperative Affairs and is a member of the senior management team. Duties include strategic planning of cooperative structure and development and oversight of the government affairs, legal affairs, investor relations, and human resource functions.
Of particular interest to McGeorge is the startup and development of cooperatives. He has consulted with several co-ops during their start-up phase. He has served on the National Cooperative Business Association for the past six years, including time as both Treasurer/Secretary and First Vice Chair. He has been a member of the Wisconsin Organic Advisory Council since its founding in 2007. Additionally, he served for eight years on the Board of the Viroqua Food Co-op, a retail food cooperative in his hometown of Viroqua, Wisconsin.
Read Jerry McGeorge's Candidate Statement
Harvey Meier

Harvey Meier's entire career has involved serving cooperatives. He was raised on a dairy that delivered milk to Darigold, a milk-processing cooperative in Seattle, WA. His family owned a "Mom and Pop" grocery store supplied by Associated Grocers, a Seattle based cooperative comprised of independently owned supermarkets.
Harvey's Ph.D. specializing in agribusiness management and cooperatives is from The Ohio State University. For over 40 years he has served as a confidential advisor to boards and top management of cooperatives in numerous industries. Often, he is retained to strengthen the co-op board and CEO partnership; train directors on their duties and responsibilities; facilitate creation of strategic initiatives; facilitate merger transactions; search for and facilitate selection of senior co-op executives; and to advise on compensating and retaining top co-op management and directors.
Harvey served as a professor and agribusiness extension specialist serving cooperatives for 10 years at Oregon State University; he was a senior officer of the Spokane Bank for Cooperatives for 10 years; and for the past 24 years has advised cooperatives of all types and sizes as an independent certified management consultant. For over 30 years, he served as a faculty member of the Executive Institute for Northwest Cooperatives (an annual Board training event for directors of cooperatives). This year the 12-member co-op CEO Focus Group he founded celebrated its 20th anniversary coming together to exchange ideas and perspectives. And, this past January he launched an annual director- training course for pacific-northwest co-op directors and management that was well attended.
Read Harvey Meier's Candidate Statement
Debbie Trocha

Debbie Trocha joined the Indiana Cooperative Development Center (ICDC) as executive director in August, 2006 and is responsible for the overall strategic direction and management of the organization. She has a strong background in small business and marketing. She holds a bachelor's degree in marketing from the University of West Alabama and a MBA from the University of Alabama.
Prior to coming to ICDC, Debbie worked for sixteen years in small business development, the last eight as executive director for the Indiana Small Business Development Center network, a program of the U.S. Small Business Administration. In that capacity she was responsible for a statewide network of regional offices that sought to impact the formation, growth, and sustainability of Indiana's small businesses by providing entrepreneurs expert guidance and a comprehensive network of resources.
Debbie has served on numerous boards and committees. She is currently the board chair of CooperationWorks!, a national network of Cooperative Development Centers that work together to revitalize communities through effective cooperative enterprise development. Members provide expertise across all aspects of cooperative development, including feasibility analysis, business plan development, training and education.
In 2005, Governor Joseph Kernan acknowledged Trocha's efforts in assisting Indiana's small businesses and entrepreneurs by awarding her a Sagamore of the Wabash.
Read Debbie Trocha's Candidate Statement
Lance Rantala

In 2006, the BLUE HAWK Board hired Lance Rantala as Chief Executive Officer. BLUE HAWK was established in May 2005 as a Minnesota 308B cooperative for independent HVACR (heating, ventilation, air conditioning, and refrigeration) wholesalers.
Today, BLUE HAWK serves 231 members with 1,270 branches in 49 states representing over $6 billion in sales. Rapidly, BLUE HAWK has become the largest purchasing entity in the HVACR industry.
Prior to BLUE HAWK, Lance spent five years working with other purchasing cooperatives, four as Vice President of AMAROK, formerly a drywall distribution co-op, and one as Recruitment Manager for three cooperatives: AMAROK, NEMEON (a roofing distribution co-op), and YaYa! Bike (now part of The Bike Cooperative). This experience provided him with invaluable knowledge of the cooperative business model and the benefits it affords independent business owners.
Lance has been an active participant at the NCBA Annual Conferences for Purchasing Cooperatives and has served on past advisory councils.
Previous to his cooperative experience, Lance worked in sales and management roles for CertainTeed Insulation and Unimast, a steel-framing manufacturer. Before Unimast, he was as a Project Manager for Insulcon Company, a low-temperature commercial contractor.
Lance has a Bachelor of Science degree in Civil & Environmental Engineering from the University of Cincinnati (1991) and an Executive MBA from The University of Chicago Booth School of Business (2005). A native of the Cleveland, Ohio area, he currently resides with his wife, Amy, and two sons, Charlie (13) and Wil (11), in Chicago. His personal interests include spending time with his family, reading, traveling, and playing tennis and golf.