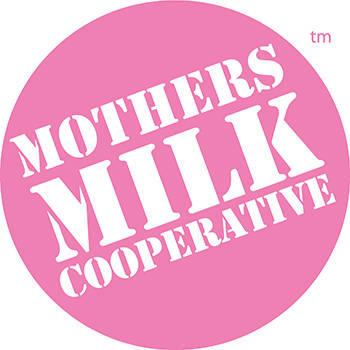 NCBA CLUSA member Mother's Milk Cooperative (MMC) is a grassroots organization dedicated to improving access to donor milk and resolving the critical shortage of donor milk that is impacting the lives of premature and sick infants globally. It is currently the first and only milk bank in the United States to offer payment for donated milk.
Research has shown that with premature babies breast milk can be a life saving intervention, helping to stave off potentially fatal infections in immune compromised infants not born full term. However, many moms of premature babies are not able to provide breast milk to their newborns.
MMC's CEO Adrianne Weir teamed up with her mother, an expert in the field of human milk and its use in neonatal intensive care units (NICUs), to solve what they saw as a problem in milk banks. Under the existing model, women donate their milk to a milk bank, which subsequently tests the milk and sells it, profit is not returned to the donor. "We felt that mothers are taking their time to pump and making a huge effort to donate and were basically receiving no gain other than the warm fuzzy feeling for doing something that's good," said Weir. "We started this project together to redefine milk banking and provide benefit to moms making a meaningful difference in the lives of babies, and to bring some of the benefits back to them. I like to say we're helping moms helping babies," added Weir.
Using the cooperative model, MMC can redirect some of the financial gain to donors-members who are working so hard to provide breast milk to the milk bank. Since launching in May of 2013, the co-op has received applications from nearly 700 women who are in the process of becoming donor-members. The co-op also offer categories of membership for families wishing to receive milk for their babies, as well as corporate healthcare institutions who wish to purchase milk for their NICUs.
The majority of donor-members strive to stay home longer with their babies as many work hourly jobs where paying for daycare and working just doesn't make financial sense. "It's extremely rewarding using the cooperative model, we regularly receive feedback from donor-members. Right now we are the first and only milk bank in the United States to offer payment for donated milk," said Weir. MMC's "Milk Money" program offers moms a dollar per ounce for donated milk. "One woman called me to let me know that because of our "Milk Money" program she was able to quit her job, stay home with her kids, and go back to college," added Weir.
All donors in order to become qualified are required to undergo rigorous screening by the American Red Cross. Once received, donated milk from donor-members is extensively tested for drugs and any tampering, including dilution or adding another species' milk, in order make sure the co-op offers the safest product possible. By partnering with her mother's company Neolac, Weir has been able to develop a process to produce the first commercially sterile donor milk that has shelf life of more than one year and can be stored at room temperature. "When we were first starting out my concept was that until donor milk is as easy to use as formula it's never going to become as common as formula," said Weir. "This is the first donor milk configured in such a way that its convenient to use. Every other donor milk product is frozen and requires thawing, which can potentially increase the bacterial bioburden; a number of pathogens can remain in the frozen donor milk after pasteurization and could cause food borne illness in an immune compromised or sick infant."
What started as a mission to create a milk bank for contemporary moms is quickly growing into a resource for new moms seeking information on breastfeeding. "We receive a lot of feedback telling us that we're the only source of breastfeeding support that many of these moms have, so the co-op is a bit of a family for them," said Weir.
MMC is currently seeking strategic partners to help fulfill its mission to make donor breast milk more affordable. At $4 to $6 per ounce, donor milk is multiple times more expensive than specialized formula created for immune compromised or sick infants. "We're trying to leverage economies of scale in our processing to reduce the pricing and make it more readily available to families," added Weir.With an eye on its members wellbeing, the cooperative has discovered that some of its donor-members could use financial literacy education and job training, a need Weir would like to see MMC meet with the assistance of other co-ops. "We've given women an economic opportunity to earn money from home. Now we've come to realize that some do not have bank accounts and are relying on others to receive their money. We want to make sure that from here on we take a two-pronged approach and also offer opportunities to receive financial literacy education and then implement some sort of opportunity to receive training. This is simply the first step of getting them on track and creating economic opportunities for them, and they won't have to donate milk for the rest of their lives," said Weir.

The co-op's first lot of donor milk will be released in January 2014 to many hospitals and families excited about the product and its ease of use. For more information about Mother's Milk Cooperative, visit www.mothersmilk.coop and 'Like' their page on Facebook.