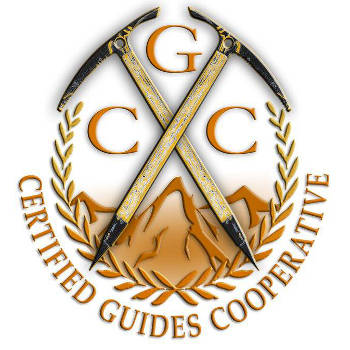 NCBA CLUSA would like to welcome the Certified Guides Cooperative to its membership. We look forward to highlighting their continued growth and efforts in advocating for the cooperative business model.
Formed in 2010 as an outgrowth of the now defunct Certified Guides Federation (CGF), the Certified Guides Cooperative (CGC) is a Washington state-based member-owned and operated cooperative that serves to provide insurance and permits to professional mountain guides and climbing instructors certified by the American Mountain Guides Association (AMGA). Its 55 member-owners hail from seven western (Washington, Oregon, Idaho, Wyoming, Colorado, Utah, California) and four eastern states (New York, Maine, New Hampshire, Vermont), and include American citizens working abroad as guides. For those not familiar with the profession, certified guides lead clients in half-day, full day, and multi-day outings consisting of rock climbing, rappelling, hiking and/or camping.
The access climate for guides seeking to lead clients in U.S. national parks is one that Geoff Unger, president and founding board member of CGC, characterizes as "tricky at best." "Many guides feel hamstrung by the current access climate in the U.S. As an individual guide it is very difficult to get access yourself. We wanted to create an alternative where guides can be more independent from guide services and have the opportunity to lead their diversify clientele in different land areas."
Working with NCBA CLUSA member the Northwest Cooperative Development Center, CGC was able to transition from a federation to a cooperative providing them with the opportunity to be recognized as a bona fide entity by the four primary land management organizations responsible for providing permits to guide in the country's national and state parks. The cooperative model allows its member-owners to meet the requirements of land managers seeking to form a direct chain of accountability with an organization rather than individual guides.
"We're working to have our cause and the cause of co-ops throughout the country recognized because we're being excluded from guiding in all national parks because of our co-op structure," added Unger. "We feel like we're sort of the small guy and the way that we can best represent ourselves and get access to insurance and permits is by forming this co-op and trying to work together as a group to basically make our lives easier; I think that's well within the sphere of what cooperatives are doing throughout the country."