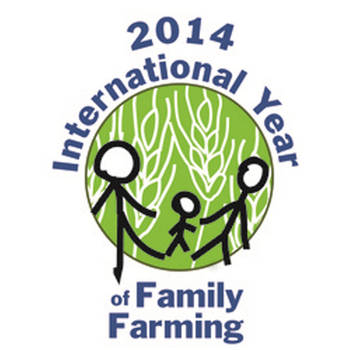 (WASHINGTON, DC)—The National Farmers Union (NFU), a member of NCBA CLUSA, and advocacy group that represents family farmers, ranchers, fishermen and consumers, and their communities, announces the kickoff of the 2014 International Year of Family Farming.
Last week, NFU President Roger Johnson and members of the U.S. national committee held a teleconference to announce this major initiative declared by the United Nations (UN) to raise the profile of family farming and smallholder farming by focusing world attention on family farmers' significant role in eradicating hunger and poverty, providing food security and nutrition, improving livelihoods, managing natural resources, protecting the environment, and achieving sustainable development, in particular in rural areas.
"NFU has played many different international roles over the years—from being one of the founding members of CARE, of the International Federation of Agriculture Producers, and more recently, of the World Farmers Organization," said Johnson. "We're delighted to be part of this international effort and to have a national committee that was specifically designed to work on areas of interest in support of family farmers."
Alan Knapp, vice president of advocacy for NCBA CLUSA added, "We would like to extend a special thank you to Roger Johnson of the National Farmers Union for chairing this important initiative." said Knapp. "NCBA CLUSA is committed to promoting 2014 as the International Year of Family Farming because of the close linkages between cooperatives and family farms as a model of member ownership. As a leader in food security through our international development work for nearly 60 years, NCBA CLUSA shares the belief that a system of sustainable family farming, ranching, and fishing is fundamental to food security and nutrition, alleviates hunger and poverty, and creates environmental stewardship for thriving rural communities."
The goal of the 2014 International Year of Family Farming is to reposition family farming at the center of agricultural, environmental and social policies in the national agendas by identifying gaps and opportunities to promote a shift towards a more equal and balanced development. The 2014 International Year of Family Farming will promote broad discussion and cooperation at the national, regional, and global levels to increase awareness and understanding of the challenges faced by smallholders and help identify efficient ways to support family farmers.NCBA CLUSA is honored to serve as a member of the U.S. national committee along with 25 x'25, the Alliance to End Hunger, American Farmland Trust, the Consumer Federation of America, and National Farmers Union.