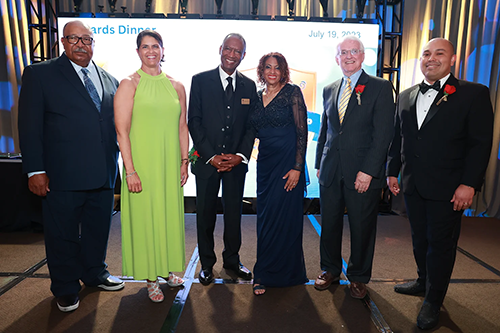 Juan Fernández, a director of NCBA CLUSA's board and president and CEO of the Louisiana Credit Union League, was among five recipients of the inaugural Maurice R. Smith DEI Leadership Award at the African-American Credit Union Coalition (AACUC)'s 25th Anniversary Annual Conference last week.
Nearly 600 executives, young professionals and retirees met in Stone Mountain, Georgia July 18-20 for legacy-themed lessons and conversations from prominent credit union leaders and long-time AACUC members. An awards dinner inducting the next cohort of African-American Credit Union Hall of Fame honorees and recognizing the first ever Maurice R. Smith DEI Leadership Award recipients closed the event.
Fernández was joined by fellow DEI Leadership Award recipients Martin Eakes, CEO of Self-Help Credit Union and Self-Help Federal Credit Union; Gigi Hyland, Executive Director of the National Credit Union Foundation; Diane Rector, Consumer Affairs Analyst for the National Credit Union Administration; and Self-Help Credit Union.
Fernández, whose nearly 20-year credit union tenure began as a teller during college, has led credit union community development efforts in New York, assisting them in seizing opportunities to serve unmet needs in their communities and achieving sustainable growth. He and his team are credited with drafting successful legislative initiatives to lower the compliance burden and enable credit unions to reach more markets and communities. Most recently, while president and CEO of the Credit Union Association of New Mexico, Fernández launched programs to help New Mexico credit unions achieve CDFI certification and serve needs that went unmet by other financial institutions. Fernández is also a member of NCBA CLUSA's Board of Directors.
In his acceptance remarks, Fernandez provided a spirited challenge to the audience and the cooperative community as a whole to do more to help communities most in need—especially for children who are growing up in challenging circumstances.
"We are so excited that Juan was recognized for the impact he has made in using the cooperative business model to serve people in historically underrepresented communities," said NCBA CLUSA president and CEO Doug O'Brien, who attended last week's conference. "Juan is a true leader for the cooperative movement and for people in historically underserved communities."
Earlier this year, the AACUC Board of Directors voted unanimously to rename the organization's DEI Trailblazer Award to the Maurice R. Smith DEI Leadership Award in honor of retired CEO of both Local Government Federal Credit Union and Civic Federal Credit Union and current AACUC Board Chairman.
"Everyone in the credit union movement not only knows who Maurice R. Smith is, but they also revere his efforts and accomplishments to make our movement more diverse, equitable and inclusive," AACUC president and CEO Renée Sattiewhite said. "In the spirit of what and for whom the Maurice R. Smith DEI Leadership Award stands, I couldn't think of a more prolific inaugural set of individuals and organizations to represent our beloved Maurice R. Smith."
Smith, who attended last week's conference, said the event "provided an opportunity for me and all attendees to reflect on what legacy truly means and how to mobilize our talents for influencing and shaping the credit union movement for years to come."