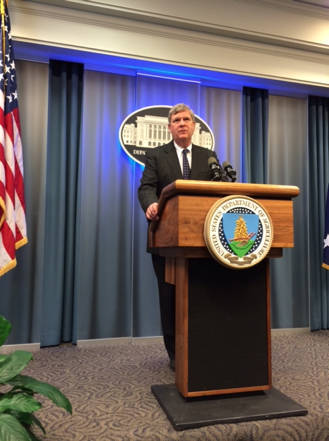 President Obama released his FY 2015 budget this past Tuesday setting in motion the annual process of determining the nation's federal spending priorities and its reconciliation with Congress.  The process could revert to a more traditional path this year than in year's past with the passage of a budget deal that was reached late last year, which established spending caps for both FY 2014 and FY 2015.  This gives Congressional appropriators a running start in crafting its individual spending bills for FY 2015, which begins on October 1, 2014.  However, due to the upcoming elections this year, a short term continuing resolution lasting into a lame duck session after Election Day in November is a likely scenario.
Congress will need to balance an Administration plan that directs reforms for certain programs and proposes increased investments above the established $1.013 trillion cap under the budget agreement.  Budgets historically are viewed more as a political message document than a numbers document.
NCBA CLUSA is closely following several budget proposals impacting cooperatives, both domestically and internationally.  As was proposed initially in the FY 2014 budget, Rural Cooperative Development Grants (RCDG), again were zeroed out and proposed for consolidation into a larger Rural Business and Cooperative Grant program in the FY 2015 budget proposal.  Through our direct work with Congress and with the help of others, including CooperationWorks! members, we were able to restore funding in FY 2014 to $26,050,00, which provided Cooperative Development Centers with $8.8M in direct funding to support rural cooperatives.  We must wage this fight yet again!  We are hopeful that Congressional appropriators will once again reject this proposal and we look forward to working with Congress and the USDA on a long term economic development strategy for rural communities that includes a strong presence and role for cooperatives as it implements the recent Farm Bill.
In the coming weeks, NCBA CLUSA will be attending Congressional hearings on parts of the federal budget and will also begin submitting requests to Congressional appropriators according to committee and subcommittee deadline announcements.  These requests will outline NCBA CLUSA's priorities, including the RCDG request, for FY 2015.  The deadlines for each subcommittee in the House Appropriations Committee can be found here:
http://appropriations.house.gov/legislation/memberinstructions.htm
NCBA CLUSA will also look to potential areas of bipartisan compromise on proposed spending plans that could be areas for cooperative development and involvement.  Increased investment in early childhood education, for example, could be one opportunity for the nation's childcare and preschool cooperatives.  A plan to create 40 Promise Zones to help revive lower income communities could be a partnership opportunity for cooperatives in a number of sectors.  Also, a plan to provide more broadband connectivity to schools could help provide a role for cooperatives engaged in rural telecommunications.  We look forward to working with and convening the many sectors involved in many of these efforts.