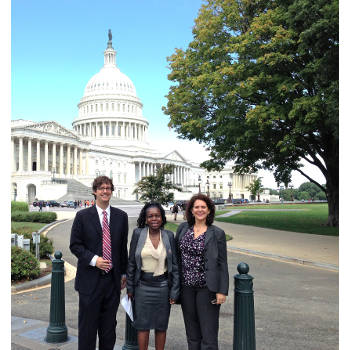 Washington, DC — Recently, NCBA CLUSA's Chief of Party in Kenya, Joyce Wafula, along with NCBA CLUSA senior staff, met with staff members of Congressman David Cicilline of Rhode Island.  The meeting was an opportunity to share the organization's successful work in Kenya, Africa.
Elizabeth Hang, Legislative Counsel to Congressman Cicilline, took the meeting to better understand the organization's successful work in Kenya, Africa. Congressman Cicilline is on the Foreign Affairs Committee and is a senior member on the Africa, Global Health, Global Human Rights, and International Organizations Subcommittee.
Ms. Wafula, along with NCBA CLUSA's Chief Operating Officer for international development, Amy Coughenour Betancourt, Vice President of Advocacy R.L. Condra, and Senior Program Manager William Allmart, joined Ms. Wafula on Capitol Hill to share the successful outcomes of the work in Kenya, which has touched the lives of more than a million young people, forming pre-cooperatives called "bunges," and helping some 85,000 of them (including 51,024 young women) to engage in livelihood activities that range from small-animal husbandry, sandal making and other handicrafts, to seaweed harvesting and fresh-vegetable agriculture.
As Country Director for Kenya, Joyce Wafula oversees NCBA CLUSA's programmatic work in Kenya, which includes serving as the Chief of Party for the USAID-funded Yes Youth Can! program operating in Kenya's Coastal and Nairobi provinces and leading NCBA CLUSA's work under the APHIA Plus Project, which provides HIV/AIDS prevention training programs, care, and support to vulnerable children. Additionally, she is responsible for the economic strengthening and food security work under NCBA CLUSA's Cooperative Development Program (CDP), which operates in 11 counties of Kenya.
NCBA CLUSA's distinctive approach weaves health, peace advocacy, and economic growth together in a more holistic methodology that assists young women and men in all aspects of their development.The National Cooperative Business Association CLUSA International (NCBA CLUSA) is the trade association for cooperative businesses in the United States and an international development organization. NCBA CLUSA provides cross-sector education, technical assistance, and advocacy that helps co-ops thrive. For nearly 100 years, NCBA CLUSA has sought to advance and protect cooperative enterprises, highlighting the impact that cooperatives have in bettering the lives of individuals and families. In the last 60 years, NCBA CLUSA has grown its international development portfolio to over $34 million of active programs in 15 countries.

###