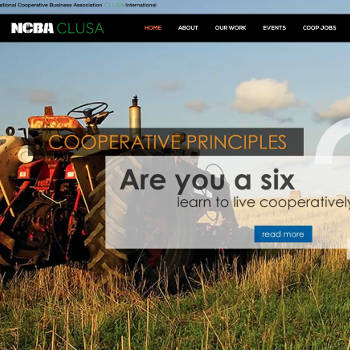 (Washington, DC) – Today, the National Cooperative Business Association CLUSA International (NCBA CLUSA) launched its newly redesigned website, providing a unique user environment that cuts across cooperative sectors, connecting cooperators to each other and encouraging coop to coop interaction.
"NCBA CLUSA is setting out to be the platform for communication for all cooperatives, and our new website is a place for folks to go and really see what's going on in the coop community domestically," said Mike Beall, president and CEO of NCBA CLUSA. "It is important for our members and the community at large to understand the kind of cooperative development work we're doing in the U.S. and the results we are producing in our humanitarian development work and how they can get involved."
Focused on sharing events, news, and information the new site, www.ncbaclusa.coop, has been redesigned at its core and provides visitors and members with a way to interact with the cooperative community. The inclusion of full social media integration allows visitors to share comments and stories on Facebook and Twitter from each page of the site, providing instant connectivity to likeminded friends and colleagues.
The "Our Work" section provides an overview of domestic and international development and includes information on current advocacy effort taking place, educational webinars, upcoming conferences, and NCBA CLUSA certifications.
The Media section offers archived copies of the Cooperative Business Journal Online (CBJo), allowing visitors to read past publications and share them with friends and colleagues. Also included in this section are videos, press releases, and links to the social media pages.
Another feature is the Jobs Board that gives coops a way to get their job posting in front of thousands of cooperators across all sectors. This feature is available to both members and non-members and is a great service to enhance the visibility of your job posting.
Over the next few months additional features will be announced focused on providing a greatly enhanced website experience. Comments and suggestions are always welcomed! Simply visit the website and you're your feedback through the "Contact" page. All comments and suggestions will be reviewed to best meet the needs of members and visitors.
The National Cooperative Business Association CLUSA International (NCBA CLUSA) is the apex association for cooperative businesses in the United States and an international development organization. NCBA CLUSA provides cross-sector education, support, and advocacy that helps co-ops thrive. For nearly 100 years NCBA CLUSA has sought to advance and protect cooperative enterprises, highlighting the impact that cooperatives in bettering the lives of individuals and families. In the last 60 years, NCBA CLUSA has grown its international development portfolio to over $34 million of active programs in 15 countries.
####