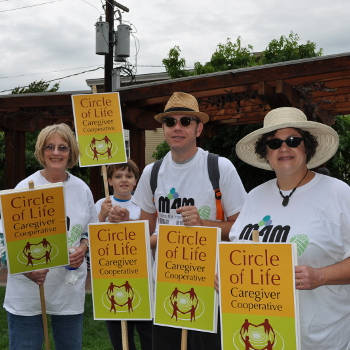 NCBA CLUSA member Circle of Life Caregiver Cooperative located in Bellingham, Washington is one of five worker-owned cooperative caregiving businesses in the United States. Its team of 33 worker-owner caregivers currently provides in-home personal and home care services for 40 elders and disabled persons in the community.
Circle of Life's administrator Jo Ann McNerthney developed the idea for the cooperative while caring for her father in her home. "I gained a huge appreciation for caregivers at that time," said McNerthney. "I previously worked with the worker cooperative model as a tree planter. I combined the industry and my previous experience with the model and began convening meetings with caregivers starting with those caring for my father. When I thought of the idea I did not know if there were any homecare cooperatives in the country," added McNerthney. A phone call to USDA's offices in Wisconsin led to the establishment of relationships with NCBA CLUSA member the Northwest Cooperative Development Center and the receipt of small grants from NCBA CLUSA partner the Cooperative Development Foundation.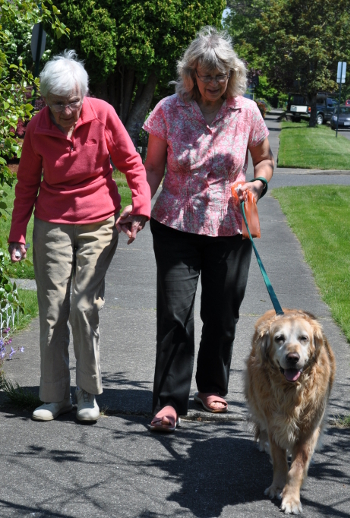 The group of worker-owners to-be met for two years with the goal in mind to start a cooperative. Circle of life has greatly expanded since receiving its license in January 2009. Relying on word-of-mouth referrals and relationship building with social workers in hospitals, rehabilitation centers, nursing homes and doctor's offices, the cooperative has nearly doubled its revenue every year. "Last year worker-owners received patronage dividends from the profits earned by the cooperative that equate to roughly $1.40 per hour."
"Some of our clients really resonate with the cooperative model and choose Circle of Life for their caregiving needs because we are a co-op," said McNerthney. "The cooperative brings people together that have the frame of mind that they want to be part of a community rather than just doing business with a franchise agency."
Despite a low turnover rate and high satisfaction among worker-owners, the cooperative cannot keep up with the growing demand for highly trained caregivers. "Our business is growing faster than we can keep up with. Right now we can't take on any additional clients," said McNerthney. "Our turnover rate is low compared to non-cooperative agencies. Last year it was 25% compared to 50-75% seen in non-cooperative caregiver agencies." When asked what she attributes the cooperative's low turnover rate to she added that the cooperative offers flexibility in scheduling and a sense of ownership not found in non-cooperative caregiver franchise agencies. "It's their business so they don't want to leave it."
For more information about Circle of Life Caregiver Cooperative, visit their website and 'Like' their page on Facebook.