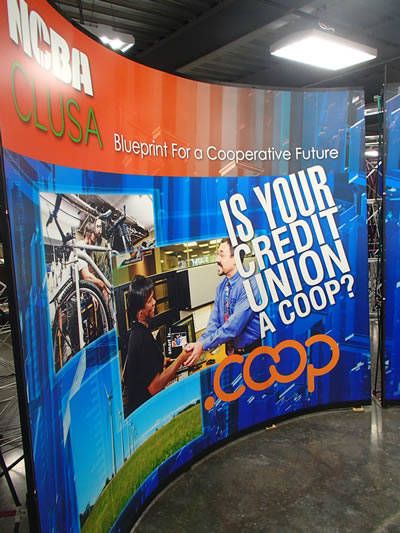 By Thomas Bowen, Former Director of Membership Relations NCBA CLUSA
Did you know that credit unions are cooperatives?  It may seem like a silly question, but in fact many of the visitors of the CUNA Governmental Affairs Conference (GAC) were not aware of that fact. One would find it hard to believe that credit union professionals and their board members would not realize that they are a part of the cooperative movement.
NCBA CLUSA was featured in a booth at the recent GAC promoting membership in the organization and the services provided to its members.  While this was an opportunity to encourage membership in our association, it was also a great opportunity to stress the importance of cooperatives in the current economy and the value they provide to communities.
We were pleased to welcome to the booth two members of the dotCoop team to promote the importance of the dotCoop domain and the newly minted coop marque.  Have you heard of the marque?  You have no idea what you are missing out on!
Co-operative identity forms a key pillar of the Blueprint for a Co-operative Future as cooperatives seek to increase visibility of the co-operative model.  It is a clear signal that the co-operative form of enterprise is professional, contemporary and business-like.
The new visual identity includes:
• The Marque for placing on your letterhead, emails, website homepage, products and packaging, advertising and promotions. It is available in a variety of color.
• A Slogan "co-operative enterprises build a better world" which can be used alongside the Marque
• A range of co-operative messages that can be used in place of the Slogan.  There are also instructions on how to create your own slogan
• A variety of images to fit your needs and your brand
By using the new visual identity in your online and offline communications you can help make people aware of their options when faced with the choice between a co-operative or an investor or privately-owned business.  See for yourself, you can apply for the Marque and download the guidelines at www.identity.coop.
Expanding the brand of cooperatives is the responsibility for all of us.  We believe in what we do and we support it – so why not make a mark with the Marque?
-Thomas Bowen, Former Director of Membership Relations