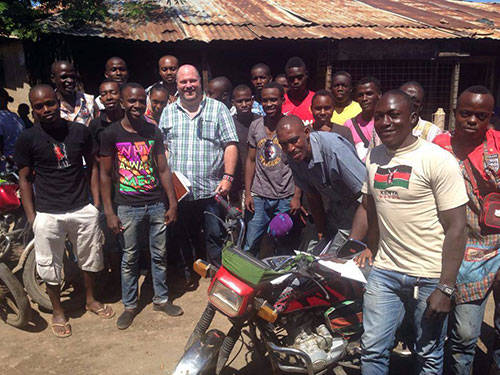 NCBA CLUSA president and CEO Mike Beall was among a team of program facilitators and mentors in Nairobi, Kenya helming the first ever continent-wide African Cooperative Development Education Training program in Africa, focusing on Savings and Credit Cooperatives (SACCOs) as key players in sustainable community growth.
Follow Mike's posts on Facebook.
Meetings with leaders of Kenyan youth bunges (local groups), Savings and Credit Cooperatives and cooperative healthcare workers are demonstrating the impact and potential of cooperatives in Kenya.
"SACCOs are such integral players in making our international development work sustainable, driving everything from our nutrition-led agriculture to community-based health," said Amy Coughenour, NCBA CLUSA COO for International Development
"Mike's involvement in this Co-op Development Education Training helps cement our positioning in Kenya as leaders of the cooperative movement," she said.
This training is in conjunction with a global movement by the National Credit Union Foundation to raise awareness of the role financial cooperatives play in community development. The training provides critical lessons in cooperative principles, philosophy and business development, and enlists participants in group exercises, field trips, issues discussion and team projects.
NCBA CLUSA is proud to sponsor this week of training where participants learn the history of SACCOs, the philosophy of the industry, how it serves the community, impacting sectors from food security to healthcare. At the end of the program, groups were given case studies on African development issues and presented their solutions to those issues to the other participants.
While in Kenya, Beall traveled to Mombasa along the Kenyan coastline to meet with a bunge, largely comprised of young men who are working to save money at the local SACCO to help build small businesses. So far, they have launched a motorbike taxi service, a barbershop, a cinema and a video game arcade. Their first group business is a French Fry or chip shop in Mombasa.
"Their aim is to develop a full-service taxi business together," Beall wrote in a Facebook post this week.
Beall also met with a group of community health volunteers following cooperative principles. The volunteers undergo training by NCBA CLUSA staff and partners, and then work within their local communities to raise awareness of HIV prevention, safe birthing practices and other health issues.
"Many of the women are former sex workers, who themselves are HIV positive and are dealing with the fear and stigma of their status in poor neighborhoods," Beall said.
Beall also took the opportunity to visit nearby Kilfi to meet with Daniel Masha, CEO of Imarika SACCO, a national savings and credit cooperative launched in 1974 by local educators that now provides financial services to more than 30,000 Kenyans.
"Imarika" is Kiswahili for "become stable," a motto that doubles as the organization's promise—to support members on the path to financial stability and ultimately prosperity.
NCBA CLUSA's Yes Youth Can! (YYC) project plays a large role in teaching youth effective business practices reaching into the heart of communities and providing training in the tools they need to build small businesses through sound financial practices.Recently NCBA CLUSA received a 10-month extension of YYC to provide youth-led services, more sustainable youth organizations, increased levels of youth advocacy, improved livelihoods, and provide young businesspeople the opportunity to invest strategically in livelihoods through youth-led grant and investment funds

Be sure to visit Facebook for pictures and video highlights of this training and watch the individual testimonies of how this training and cooperative principles have provided tremendous opportunities for local communities.