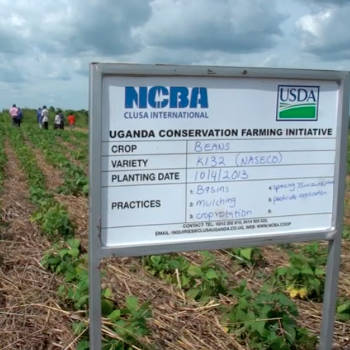 (WASHINGTON, DC)—This week, NCBA CLUSA's Chief of Party for Uganda, Gretchen Villegas, met with key leadership on Capitol Hill to share the success of the Uganda Conservation Farming Initiative funded by United States Department of Agriculture's (USDA) Food for Progress program currently being implemented by NCBA CLUSA in Northern Uganda. Ms. Villegas was accompanied by NCBA CLUSA leadership; President and CEO Mike Beall, CLUSA International Chief Operating Officer Amy Coughenour Betancourt, and vice president of Advocacy R.L. Condra.
"This program is vitally important to farmers in Uganda," said Villegas. "Providing local Ugandan farmers access to this training in conservation agriculture has benefitted more than just the farmers and their households, it benefits the community as a whole and provides a measure of food security and stability in the region."
Through this program, NCBA CLUSA is training 60,000 farmers on the proper implementation of conservation farming techniques. Within three years, following proper implementation, Ugandan farmers can increase their crop yields by over 100 percent and are now able to support their families. The delegation met with key Congressional players that oversee International development programs funded by government agencies including USDA. They shared the successful outcomes of the project and requested continued support for the program.
The visit included conversations with T.A. Hawks, Staff Director and Taylor Nicholas, both senior staff serving on the Senate Agriculture Committee, which oversees and authorizes the USDA Food for Progress program. Both Hawks and Nicholas work for Senator Thad Cochran (R-MS) who is Ranking Member on the Committee. Additionally, they met with Ned Michalek, Chief of Staff to Congressman Eliot Engel who is Ranking Member on the House Foreign Affairs Committee.
An overview of the project and its progress was presented at USDA to Food for Development Branch Chief Nicola Sakhleh and his staff from partner and funding agency, the USDA Foreign Agricultural Service.
The National Cooperative Business Association CLUSA International (NCBA CLUSA) is the apex association for cooperative businesses in the United States and an international development organization. NCBA CLUSA provides cross-sector education, support, and advocacy that helps co-ops thrive. For nearly 100 years NCBA CLUSA has sought to advance and protect cooperative enterprises, highlighting the impact that cooperatives in bettering the lives of individuals and families. In the last 60 years, NCBA CLUSA has grown its international development portfolio to over $34 million of active programs in 15 countries.