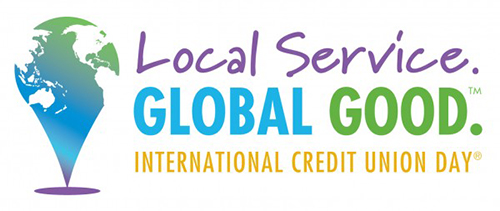 We're joining cooperatives nationwide to raise awareness of the "Local Service, Global Good" credit unions provide by celebrating International Credit Union Day today. The Credit Union National Association published this round-up of ICU Day events happening nationwide. Find more by searching social media sites for #ICUDay:
Today the credit union movement celebrates International Credit Union Day, first observed 67 years ago to remind credit unions, staffs and members around the globe to take a step back and recognize the work credit unions do in their communities all year long.
The day, celebrated annually since 1948 on the third Thursday of October, also offers a golden opportunity to raise awareness for the credit union industry.
"When good consumer value is a matter of the core philosophy of an organization as opposed to a promotional come-on, it means that you can count on that value being there today, tomorrow and for years to come," wrote Rob Kimmett, senior vice president of marketing for the New Hampshire Credit Union League, in a recent op-ed that appeared in the New Hampshire Union Leader.
Internationally, there is a lot to celebrate, as credit unions have played critical roles in supporting the communities and the nations they serve.
In the Philippines, for example, credit unions helped members get back on their feet after a devastating typhoon ravaged the country late last year. In Mexico, impoverished and marginalized citizens have more access to bank services thanks to credit union field officers who bring mobile banking services to underserved populations.
U.S. credit unions have coordinated myriad events to honor the day and the movement.
Hope FCU in Jackson, Mississippi, with $188 million in assets, is celebrating International Credit Union Day all week by encouraging family members, friends, neighbors and co-workers to become credit union members, or to learn more about how credit unions can benefit them.
In Kansas, credit unions are carrying on their tradition of surprising people in their local communities with special events today. Called "Make a Difference" events, credit unions will announce locations via Twitter and Facebook for special happenings around their communities that will be full of surprises, according to the Kansas Credit Union Association.
The World Council of Credit Unions is encouraging credit unions this year to celebrate by raising funds for causes supported by the movement.
Many credit unions are accomplishing this by participating in the Credit Unions for Kids "Shop for Miracles" Day, a fundraising program that supports Children's Miracle Network Hospitals through donations made by credit unions for each time a member uses their credit or debit cards.
In many cases today, credit unions will celebrate simply by hosting small get-togethers at their branches.
For example, at $614 million-asset Consumers CU in Round Lake Beach, Illinois, officers, directors, managers and staff will be on hand to greet members and the general public. Those who visit will be able to enjoy a cup of coffee, a donut or a cookie, or receive a gift, according to the credit union.
Many likely will share their celebratory events and experiences today through social media as well. When posting onto Facebook or Twitter, or when searching for International Credit Union Day social media posts, use the hashtag #ICUDay.