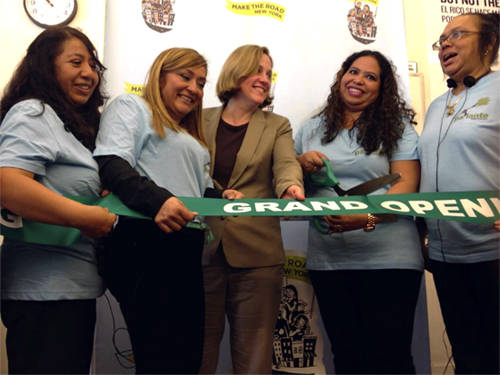 Through out the country, worker cooperatives are fast becoming the solution to unethical business practices and worker exploitation.  The co-op business model provides the opportunity for individuals to take ownership in their professional lives and apply time-tested principles that focus on equality and integrity.  
In this article, by reporter Tobias Salinger of the New York Daily News, the motivation and purpose for establishing a 15-member cleaning cooperative is made plain, providing the perfect example of worker empowerment.
Queens Cleaning Ladies form Workers Cooperative 
By Tobias Salinger, New York Daily News
They were tired of being taken to the cleaners by their bosses — so they're taking out the trash on their own.
Pa'lante Green Cleaning, a 15-member Jackson Heights cleaning cooperative owned and operating by the cleaning ladies themselves, celebrated its grand opening Wednesday.
"Now that I'm part of this project, I'm very excited to be an owner as well as an employee," said Claudia Leon, a 36-year-old Mexican immigrant who was earning just $20 a day as a waitress at a taqueria in Jackson Heights.
Pa'lante Green Cleaning will be among just 25 so-called worker cooperatives in the city and only the fourth employee-owned cleaning service, according to Make the Road New York, a nonprofit that collaborated with the workers over the course of two years to form the new company.
"The overwhelming majority of them have had experiences of wage theft and exploitation on the job, and that's one of the main reasons they're coming together in this worker cooperative," said Saduf Syal, an organizer with Make the Road. "Basically they're cutting out the middle man — the cleaning service owners — and keeping 100% of the profits."
Pa'lante members hope to boost their wages from the $8 to $12 per hour they were earning at established cleaning services to $20 per hour by trimming supervisory expenses and by acting as their own board of directors.