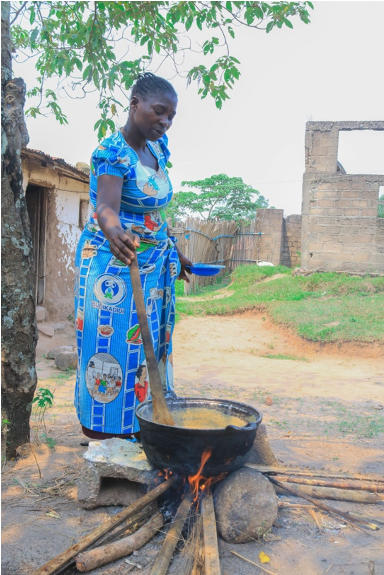 NCBA CLUSA's "care group" approach in the Democratic Republic of Congo is empowering women like Bernadette Kapinga to transform their communities. Bernadette is a community-based health volunteer—known locally as a "lead mother." After she received training from the Budikadidi project, Bernadette was elected by 14 neighboring households to lead local capacity-building and provide demonstrations on nutrition, health and hygiene.
Funded by the U.S. Agency for International Development (USAID), Budikadidi aims to achieve food security, economic development, health and good governance goals in in the Democratic Republic of Congo. As the lead on sustainable governance, youth and gender integration, and value chain development, NCBA CLUSA implements the project in partnership with Catholic Relief Services, Caritas Mbuji Mayi, Réseaux Femmes et Développement and Human Network International.
In her village of Katshienza, Bernadette is president of the local lead mothers organization, which focuses on self-reliance. Since 2018, lead mother groups have participated in several project-led training courses in health and nutrition—knowledge they have in turn passed on to mothers across 474 villages. Designed to spur behavior change in health and nutrition and promote essential hygiene practices, this approach has multiplier effects and has reached more than 70,000 households.
Recently, Bernadette and four of her colleagues took the initiative to establish the Budikadidi Recovery Center to help malnourished children. Using resources from their own farming, rabbit breeding, and a small enterprise for the production and sale of soap and wine, these lead mothers have already helped 29 children recover from malnutrition. In a space provided by the parish of Saint Raphael Catholic Church of Bakwa Sumba, Bernadette and her colleagues prepare highly nutritious porridge for the children twice a day.
After the children complete the 14-day program, the lead mothers share advice with their parents on the appropriate types of food to eat and recipes to prepare to help their children fully recover and flourish. Some parents have even joined the lead mothers group in order to better care for their children.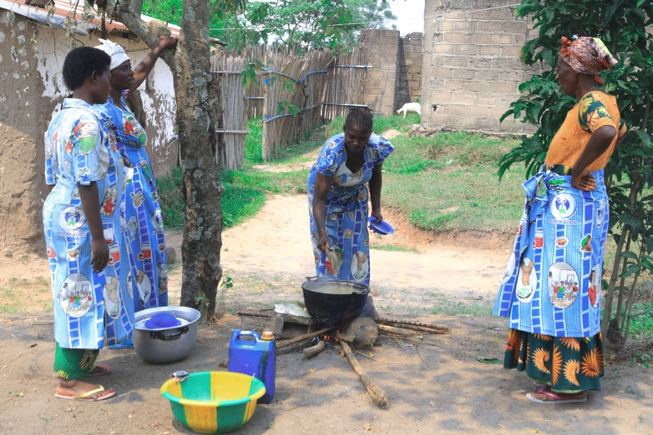 To support their efforts, the lead mothers work in partnership with a nurse in charge of the Monka Health Area who provides pharmaceutical support after the children go home. The Budikadidi field agent and care group also provide support and followup throughout and after each child's treatment. At admission, during treatment and at discharge each child receives a health card on which their age, height, weight and other signs are regularly recorded. Follow-up is organized at home after the child's discharge, at which point the team can monitor the child's progress and react in the case of relapse.
Budikadidi's care group approach has enabled lead mothers to come together and support their neighboring households and communities. Each care group is comprised of 10-15 lead mothers who meet regularly and share best practices and lessons learned from the project. The Budikadidi team has trained 87 care group promoters who in turn trained 5,096 lead mothers.
"I am happy with what I have learned so far on malnutrition among children thanks to Budikadidi, and I will fight to put an end to malnutrition in my village," Bernadette told project organizers. Thanks to Bernadette and the other lead mothers, more and more households in the Democratic Republic of Congo are adopting and practicing new skills in nutrition, health and hygiene.