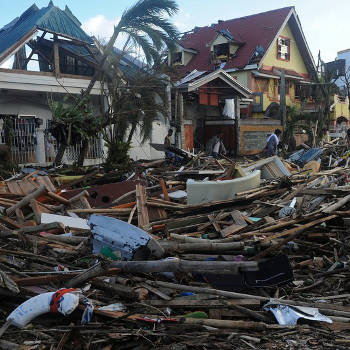 (WASHINGTON, DC)—In the spirit of Cooperative Principle 6, cooperation among cooperatives, NCBA CLUSA member the National Rural Electric Cooperative Association (NRECA) via the NRECA International Foundation, as well as The World Council of Credit Unions (WOCCU) and the Cooperative Development Foundation (CDF) are coordinating response efforts in the region to help thousands of rural electric and credit union members recover and rebuild after the devastating typhoon made landfall on Friday, November 8, with sustained winds of 140 mph and gusts up to 170 mph.
According to a report released on November 18 by the Philippine National Disaster Risk Reduction and Management Council, 10 million people have been impacted by the super storm with some 3,976 killed, 18,175 injured, and 850,808 displaced.
NRECA is reporting that approximately 30 electric cooperatives have been damaged by the storm causing thousands to be without power. WOCCU's initial reports state that an estimated 3,000 credit union members were killed by the typhoon with an additional 75,000 losing their homes and 50 credit unions damaged or lost.
Both NRECA and WOCCU have worked with cooperatives in the Philippines for decades. NRECA International first helped to electrify rural areas of the country in 1966 as part of its mission to electrify the world one village at a time. NRECA has launched a fundraising campaign to help restore power to devastated areas of the country.
To support NRECA's efforts, visit www.NRECA.coop
Since 1966, WOCCU has worked with credit unions in the Philippines. In 2006, following a landslide in Leyte, WOCCU supported local credit union league's administration of microloans to help credit union members and employees rebuild their homes and businesses.
To support WOCCU's efforts, visit www.WOCCU.coop
In addition, WOCCU is coordinating efforts among Asian, Australian, American, Canadian and Irish credit union systems to maximize impact and ensure credit unions have the resources they need to provide immediate and long-term services for their members. The Council is also working with the Association of Asian Confederation of Credit Unions, the Philippine's National Confederation of Cooperatives and the VICTO National Cooperative Federation and Development Center, as well as other credit union connections on the ground.
CDF is accepting donations for cooperatives and cooperators hit by the typhoon. Funds collected will not be used for immediate relief, as there are many organizations fulfilling this need; rather, funds will be used to help cooperators and cooperatives rebuild their lives and cooperatives.To support CDF's efforts, visit www.CDF.coop

CDF has a history accepting donations, sending funds, and making grants to assist in the recovery of cooperatives and their members struck by natural disasters. From the floods in North Dakota and Mozambique in the 1990s, to the Asian Tsunami, Hurricanes Katrina and Sandy, and the Haiti earthquake more recently, CDF has collected and given more than $530,000 in emergency funds for 15 disasters.