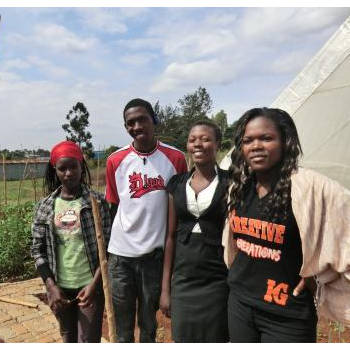 Submitted by Amy Coughenour, COO for International Development
(NAIROBI, Kenya)—On Tuesday, August 20, we visited a youth group (called a "bunge," meaning parliament) in Nairobi called the Kreative Generation, made up of 15 young people who formed their group through the support of Yes Youth Can!, a youth initiative created by USAID and implemented by NCBA CLUSA to empower youth and help them develop livelihood opportunities.
This group (pictured) is cultivating their first harvest of tomato, kale, spinach, onions, and lettuce for sale in local markets, using greenhouse technology and a community garden supported by Israel for Africa. In addition to farming, they make and sell jewelry and beaded mats, and are also theatrical performers. Their performance troupe appears weekly on a national television show showcasing their dances, songs, skits, and comedy. Their performances include positive messages for children and youth: preventing HIV/AIDS, staying in school, avoiding drugs, eating a healthy diet, and many other important themes for today's Kenyan youth.
Salome, 24, Peter, 22, Faith, 18, and Vincent, 24, who is the bunge president, are enjoying their newfound voices and livelihoods. "We love doing agriculture!," they shared. One young woman said, "Other youth ask us why we are not out on the town getting some chicken and chips. But we would rather be here; they are surprised we can farm in Nairobi." But the neighbors don't mind—they have already shown up asking when they can buy the vegetables.
Through the Yes Youth Can! program, NCBA CLUSA and its partners are helping young people organize themselves in youth-run and youth-led bunges, through which members democratically elect their own leaders at the village, county, and national level. These bunges follow cooperative principles that provide structure and a forum for young women and men to mobilize and take action to improve their own lives and the lives of those in their communities. Through training, the youth develop new leadership skills, promote transparent decision-making about their priorities, engage their collective voice on decisions that affect them, and revive the true spirit of cooperation as they serve in developing their communities.