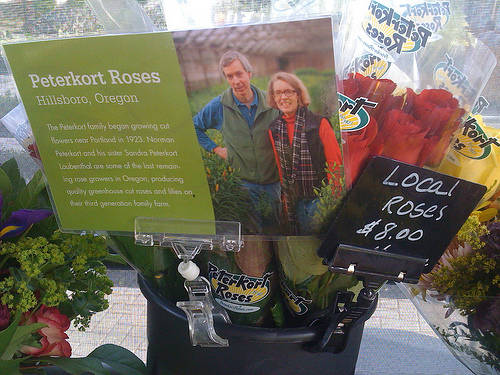 The farm-to-table movement has heightened awareness of the benefits of buying food raised closer to home. Now the Seattle Wholesale Growers Market Cooperative is striving to build that same sort of consumer support for cut flowers. Think of it as promoting "farm to vase."
The co-op idea evolved out of growers' needs. Like other growers, Diane Szukovathy, one of the co-op's founding members, had been selling cut flowers directly to Seattle florists. She and husband/co-owner Dennis Westphall trucked in product from their seven-acre operation 60 miles north of the city to make store-to-store deliveries. "It wasn't an efficient way of selling," she says.
Other growers in the region faced the same challenge. Plus they were all up against immense competition from the imported flower industry, which accounts for 80 percent of cut flowers sold in the United States, more than double the import rate in the 1980s, according to Szukovathy. "Local growers have been walloped by US trade policy," she says.
It's not just growers who have taken a hit. Imported flowers, mostly from South America, must be varieties that can withstand shipments of thousands of miles. Thus, we see fewer selections available in US floral shops today.
Environmental impact is another factor. Imported flowers require far greater amounts of fuel and refrigeration for delivery, and they often come from countries with less regulation of pesticide use than in the states.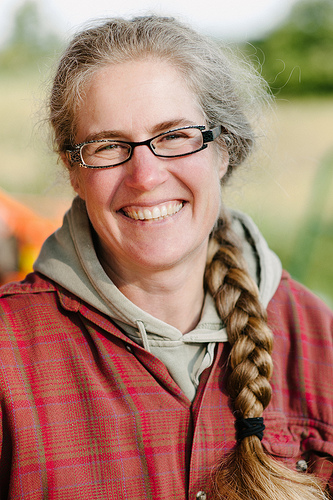 "We wanted to own ourselves," says SWGMC President Szukovathy.
The Seattle Wholesale Growers Market Cooperative, established in February 2011, aims to help its 18 members survive and thrive in today's flower marketplace. Membership is open to growers in Washington, Oregon, Alaska and Idaho. The co-op model "exactly fit our needs and the way we're sharing resources," Szukovathy says. "We wanted to own ourselves."
The hub of the co-op's activity is the 4,000-square-foot wholesale market, located in a former brewery in south Seattle. Growers bring in a diverse array of floral varieties to sell every Monday, Wednesday and Friday. Buyers are primarily florists and wedding and other event planners.
"There's a wonderful community spirit at the marketplace," Szukovathy says. "It's a place where creative people feel welcomed and inspired."
Besides catering to wholesalers, the market opens up to the public for four hours on Fridays, which gives curious home gardeners a chance to check out the market. It also provides growers another channel for selling, while not disrupting the wholesale business, the co-op's mainstay.
By banding together, the growers gain marketing clout and efficient distribution, which help generate better earnings. Szukovathy's 2012 sales, for instance, were roughly double what they were for 2010 before the co-op existed. Meanwhile, the annual mileage on her delivery truck stayed about the same.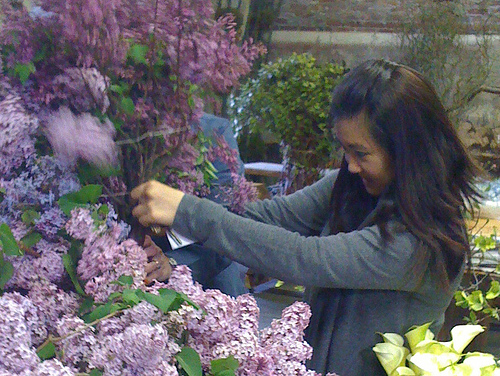 Besides supplying florists and event planners, the cooperative is expanding into a new market segment: grocery store chains, which are major sellers of cut flowers. Helping to fund that expansion is a $138,000 grant from the Washington and Oregon state agriculture departments.
"We figure we need to make firm inroads into selling in the chain stores in order to move volume," Szukovathy says, "and to grow our membership and give the co-op a long-term presence in the marketplace."
Some of the grant funds also will go toward packaging and labeling materials, which will alert consumers to the fact that the flowers they're buying are from the Northwest U.S. Otherwise, because the U.S. government doesn't require country-of-origin labeling on cut flowers, "people often don't know where flowers are coming from," Szukovathy says.
Another portion of the grant money will go toward helping growers pay for Safe Salmon assessments on their farms. Safe Salmon is a certification program in the Northwest for farms using practices that keep waterways clean for salmon. The co-op doesn't require its member growers to be certified, but the grant will assist with costs for those who wish to pursue certification. One area natural foods chain store, for instance, looks specifically for Salmon Safe bouquets when it buys from the co-op.
Even with the expansion into chain stores, the independent florists and event planners are the "heart and soul of the co-op's customers," Szukovathy says. "We're scaled correctly to work with each other. It's a small-business-to-small-business and looking-you-in-the-eye kind of relationship. It's an extremely ethical way to do business."