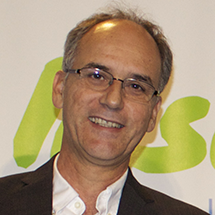 Senior Vice President, International Development
NCBA CLUSA
Alex Serrano is the Senior Vice President for International Programs at NCBA CLUSA. Alex, who most recently served as Vice President for Strategy Development at NCBA CLUSA, has spent the past 30 years working in Africa and around the world developing cooperative businesses and market linkages. Alex joined NCBA CLUSA in 1989 as Country Director for Sao Tome and Principe, an island nation off the western coast of Central Africa. From 1995-2000, he was NCBA CLUSA's Country Director in Mozambique, where he helped develop a network of more than 400 rural businesses with a membership of over 16,000 and helped establish market linkages with agribusiness for local, regional and international markets. Prior to his work in Mozambique, Alex served as Senior Manager and later Regional Director in Southern Africa.
Alex was a recipient of the InsideNGO Operational Excellence Award for his contributions to the NGO community in business development and program operations in 2015 and serves on the Board of the International Co-operative Alliance for the Americas and the U.S. Overseas Cooperative Development Council.