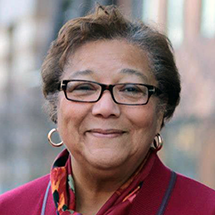 At-Large Councilmember
Council of the District of Columbia
Anita Bonds has spent her entire adult life as a grassroots organizer, activist and trusted political ally for causes across the spectrum of civil rights, social justice, workers' rights, and LGBTQ and women's equality movements.
As a student at the University of California at Berkeley, she became involved in the Free Speech Movement and later returned home to support the District's struggle for civil, social and economic reforms, and achieve equal justice for underserved communities.
Throughout her career, Anita has held key leadership roles at organizations like the Young Democrats of America, the D.C. Women's Political Caucus, the Perry School Community Services Center and Africare.
She has also worked on numerous campaigns to elect like-minded, high-profile Democratic candidates at the national, state and municipal levels, and has served as a cabinet member in the administrations of Mayors Anthony Williams, Sharon Pratt and Marion Barry.
Since 2012, Anita Bonds has served as an At-Large Councilmember on the Council of the District of Columbia where she chairs the Committee on Housing and Neighborhood Revitalization.
Anita has maintained a strong voting record that promotes better education and social policy and increases economic opportunity and access to affordable housing for all residents.