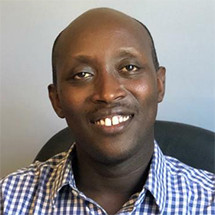 Cooperative Developer
Cooperative Development Institute
Arthur Sabiti is a Cooperative Developer with the Cooperative Development Institute (CDI)'s Cooperative Business Services (CBS) and Cooperative Food System's (CFS) programs. Arthur has worked for both public and private agencies in Rwanda including the United Nations Capital Development Fund where he worked as a financial inclusion technical advisor. He has supported over 416 financial cooperatives to develop their structure, including governance, by-laws, membership, product design, management and business planning services.
Arthur brings to CDI progressive leadership experience in development finance and social justice programs. His professional experience in Africa includes project management, managing financial inclusion sector supported projects, Small Medium Enterprise support funding design and farmers value chain financing design. Arthur worked at Global Communities, where he administered a Cooperative Performance Index tool for 30 district cooperatives, assessing needs and providing gap-filling interventions.
Since coming to the U.S., Arthur has worked at Preble Streeti n Portland, Maine as a case worker and has served on the Board of Directors for the Intercultural Community Center (ICC) in Westbrook, Maine, where he is currently Executive Director. The ICC serves over 100 3rd-8th grade children of new Mainers (predominantly) with educational support services that include English language, school homework support and physical education.
Arthur holds a master's degree in International Economics and Development from the Catholic University of Louvain and a bachelor's degree in Finance from the University of Rwanda. Arthur has also completed the Harvard Kennedy School's Executive Training Program on Rethinking Financial Inclusion. He is adept in written and verbal communication, skilled in public speaking and is fluent in English, French and Kinyarwanda.