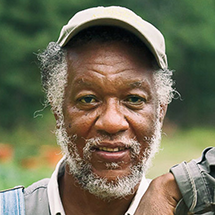 State Coordinator, Mississippi Association of Cooperatives
Federation of Southern Cooperatives/Land Assistance Fund 
Ben Burkett is employed by the Federation of Southern Cooperatives/Land Assistance Fund as State Coordinator of the Mississippi Association of Cooperatives (MAC). Established in 1972 as an affiliate of the Federation of Southern Cooperatives/Land Assistance Fund, MAC serves farmers, their families and communities by increasing their livelihood security and improving quality of life. Building from a tradition begun in the Civil Rights Movement, MAC provides technical assistance and advocates for the needs of its members in the areas of cooperative development and networking, sustainable production, marketing and community food security.
Ben is a fourth-generation farmer currently heading up a 320-acre farm in Mississippi's 4th Congressional District, represented by Rep. Steve Palazzo (R-MS). A legendary farm advocate, Ben has spent more than 30 years speaking, writing, testifying and organizing for the rights of independent family farmers in his community, across the U.S. and around the world.
He currently serves on several boards: National Family Farm Coalition, Hattiesburg Farmers Market, and an advisory board committee with Rep. Bennie Thompson (D-MS). He was elected chairman of the Mississippi State Farm Service Agency Committee. He is a past board member of the Mississippi Fruit and Vegetable Growers Association, Mississippi Agri-Business Advisory Council, Federal Reserve Bank Advisory Board (Atlanta Bank District) from 1995-1998, member of the Mississippi Farm Service Agency State Committee from 1993-2001, the Lower Mississippi Delta Planning Commission, and Crescent City Farmer's Market in New Orleans, Louisiana. Ben is also the secretary/manager of Indian Springs Cooperative located in Petal, Mississippi.
Ben has studied cooperative development and developed marketing co-ops in the U.S., Africa, Central America, Asia and the Middle East.