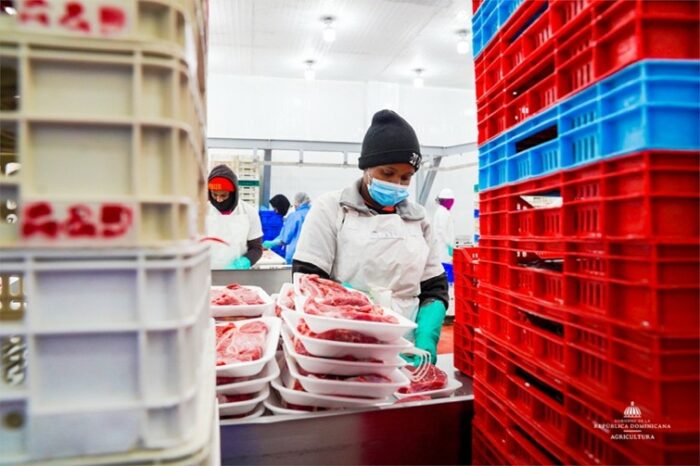 Traducción al español a continuación
The history of meat equivalence dates to 1997, when the Dominican Republic was still exporting meat to the United States. At that time, the prices of the meat trade at the national level were more attractive to ranchers than the profits from exports to the United States. This reality coincided with the introduction of the Food Safety and Inspection Service (FSIS) regulation, for which the country did not prepare for. Both factors led to the country losing the opportunity to export meat products to the United States by 1999.  
The new export permit required by the FSIS required certain changes in the meat processing system such as the implementation of the Hazard Analysis and Critical Control Points (HACCP) system in each meat processing plant, and the implementation of a standardized cleaning system, among many others. In 2003, under these circumstances and under the direction of Dr. Kasse Acta, a first unsuccessful attempt was made to restart exports.  
In 2012, the country requested equivalence once again. However, the country did not submit the revision of the Self Reporting Tool (SRT) questionnaire to the United States until May 2017. This questionnaire was the first step in formalizing the request to achieve equivalence in exporting meat products to the United States. 
The SRT consists of a series of questions, with respective official documentation. This is to demonstrate that the Dominican meat inspection system has a robust legal basis, similar or equivalent to that of the United States. 
In 2017, interaction with U.S. authorities began once again, at which time changes were made to official documents and concerns regarding Dominican meat processing practices were clarified. 
Finally, in December 2019, the FSIS communicated that the Dominican Republic had achieved meat equivalence, and in March 2020 a visit to the country was scheduled to deliver the Equivalence. Due to the onset of COVID-19, the process was postponed until July 2021. The visit was scheduled again for September 2021 and after that, a final report is prepared that gives way to the certification, which is finally issued in April of 2022. 
Challenge
The great challenge for the Dominican Republic to regain authorization to export meat to the United States was the implementation of an efficient food safety scheme that complied with FSIS requirements.  
NCBA CLUSA's U.S. Department of Agriculture (USDA)-funded Safe Agriculture/Food Export (SAFE) project, operating locally as Strengthening the Dominican Livestock Value Chain (ProGana), provided vital technical support for the implementation of the state food safety scheme. 
Since its inception in 2015, the project, has been a great help to the Dominican government. More than resources, the State needed support and ideas to achieve efficient implementation of a food safety scheme adapted to international standards. 
ProGana, through its implementing partner NCBA CLUSA and The Norman Borlaug Institute for International Agriculture of Texas A&M University, worked hand in hand with the Meat Unit of the General Directorate of Medicines, Food and Health Products of the Ministry of Public Health, (DIGEMAPS). Their consistent visits, along with communication and constant monitoring by the specialists were examples of the strategic contributions made by ProGana. 
These specialists were able to identify weaknesses within the system and gave pertinent suggestions on how to overcome these setbacks. It was thanks to the wise recommendations of American consultant Victor Cook, that a network of laboratories was created, along with a team of state auditors dedicated to complying with the established requirements regarding food safety. 
Cook was visionary in recommending the use of international laboratories to complement the work of local laboratories in certifying safe handling at processing plants. This recommendation was later validated by the U.S. authorities in the evaluation reports of the process to achieve equivalence. 
Actions Taken
Recovering the authorization to export meat to the United States required changes in established methods and the building of an efficient food safety scheme. The construction of such a scheme required: 
Hiring new personnel and training them in inspection tasks at authorized establishments.

The preparation and implementation of 27 official procedures.

The preparation of more than 40 forms, to make administrative work in slaughterhouses more efficient.

Ensure that private meat processors comply with the regulations of the new food safety scheme.

Get processors to develop their own procedures, validate them and implement them.

Create a national and international network of laboratories to analyze samples that certify safe handling throughout the process. This was one of the requirements that took the longest; from 2017 to August 2018, when it began work with other laboratories in addition to the Central Veterinary Laboratory, LAVECEN.
Targeted support from ProGana
ProGana began conducting an analysis of previous evaluations of the USDA/FSIS, the Beef Inspection System (BIS), and the country's beef and dairy value chains. In 2017 they joined the "Equivalence Round Table" led by the Dominican Association of Landowners and Farmers (ADHA). This round table was made up of stakeholders from the public and private sectors, including beef producers, the Dominican Association of Processing Plants (ADM), the three largest processing plants (Mercarne, Agrocarne and Suplidora A&B) and other relevant agencies…
A fundamental support provided by ProGana consultants was the follow-up and review of the answers of the self-assessment tool (SRT), as the first step to achieving equivalence. They were reviewed and adapted to Dominican standards by Dr. Rori Aaron.
Regarding the laboratories, ProGana consultants helped create the audit team to improve SPS's laboratory systems. The Ministry of Health, through DIGEMAPS, requested for the appointment of three external auditors trained by FSIS experts in the prevention of conflicts of interest. Such internal audits would be to verify that the practices of third-party laboratories meet FSIS requirements.
ProGana has leveraged more than US$1.5 million in investments from the private sector.
Facilitated the development and improvement of 11 policies, regulations, and procedures for stakeholders of the equivalency process
Identified counterfeit and/or poor-quality inputs and provided alternatives to farmers.
Conducted comprehensive trainings for all components of the Meat Inspection System (BIS) including: FSIS requirements, Food Safety Modernization Act (FSMA), Risk Management, Animal Welfare, Hazard Analysis, and Critical Control Points (HACCP), Best Manufacturing Practices (BMP), SPS, Sanitation Standard Operating Procedures (SSOP), Sanitary Dressing Procedures (SDP), and many other food safety and sanitation topics.

Helped develop political will for a risk-based system, as well as train officials in risk management and surveillance systems.
ProGana promoted the empowerment of producer groups such as ASOCARNE (National Association of Beef Cattle Producers), and slaughterhouse suppliers.
RESULTS
The Dominican meat inspection system was audited by the United States Department of Agriculture (USDA), and it was determined that the control of the Dominican government is equivalent, that is, it has the same result as the control of the United States government. 
In other words, the Dominican Republic can guarantee, in the same manner that the US government guarantees, that the raw beef that reaches the Dominican table and markets in the United States is safe. 
Having obtained equivalence with the Food Safety Inspection Service (FSIS), so that raw beef exports to the United States are re-enabled, is the major achievement highlighted in this success story. However, this approval also allows us to export other types of meat, as well as non-meat products. Currently, equivalence will allow industrial meat for grinding to be exported to the United States, along with select sliced meats. 
Soon, plants in the Dominican Republic will be able to open requests to export hamburgers and ground beef, among other cuts. As the system has already completed its first phase, the requirements for new cuts will be minimal. In fact, the intent of achieving equivalence is to also expand this system into products such as pork, poultry, and egg-derived products. 
Having reached equivalence is also an incentive for livestock production that will lead to increased demand and stable prices. The increase in livestock production at a general level will benefit dairy farming as well. The livestock industry will be strengthened and automated, which in turn will generate more sources of employment. 
For the Dominican Government, this achievement represents the creation of new employment opportunities, strengthening of trade, as well as of the livestock industry. After achieving equivalence, the Dominican Republic guarantees safe meat products to the Dominican people and American consumers. 
---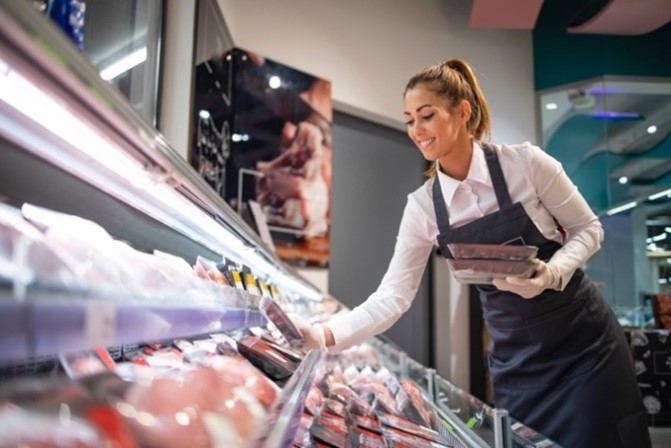 Perfil y Antecedentes: la historia de la exportación de carnes a USA 
La historia de la equivalencia cárnica se remonta al año 1997, cuando aún la República Dominicana exportaba carnes hacia los Estados Unidos. En aquel entonces los precios del comercio cárnico a nivel nacional eran más atractivos para los ganaderos, que las ganancias de la exportación hacia los Estados Unidos. Esta realidad, coincidió con la entrada en vigencia de la regla del Servicio de Inocuidad e Inspección de los Alimentos (FSIS, por sus siglas en inglés) del Departamento de Agricultura de los Estados Unidos de América (USDA, por sus siglas en inglés), regla para la cual el país no se preparó. Ambas situaciones motivaron que para el año 1999, el país perdiera la oportunidad de seguir exportando carnes a los Estados Unidos. 
El nuevo permiso de exportación requerido por el FSIS exigía ciertos cambios en el sistema de procesamiento cárnico como: la implementación de Sistemas de Análisis de Peligros y Puntos Críticos de Control (HACCP) en cada planta procesadora de carnes, la implementación de un procedimiento de sistema de limpieza estandarizado, entre muchos otros. Bajo esta realidad, en el año 2003, y bajo la dirección del doctor Kasse Acta, se hizo un primer intento infructuoso para reincorporar las exportaciones.  
En el año 2012, el país vuelve a solicitar la equivalencia. Sin embargo, no fue hasta mayo de 2017 cuando el país somete ante los Estados Unidos, la revisión del cuestionario Herramienta de Autoevaluación (Self-Reporting Tool (SRT), por sus siglas en ingles). Dicho cuestionario es el primer paso para oficializar la solicitud de la equivalencia cárnica para exportar productos cárnicos a los Estados Unidos.  
El SRT consiste en responder una serie de preguntas, con sus respectivos documentos oficiales, para demostrar que el sistema de inspección de carnes dominicano cuenta con una base legal robusta, similar o equivalente, a la de los Estados Unidos de América. 
En el año 2017 inicia de nuevo un activo proceso de interacción con autoridades estadounidenses, en el que se realizaron cambios en documentos y aclaraciones de dudas sobre el sistema dominicano de manejo de carnes. 
Finalmente, en diciembre de 2019 el FSIS, comunica que ya la República Dominicana había completado satisfactoriamente el cuestionario SRT, y en marzo de 2020 se programa una visita para auditar el sistema y verificar que fuera equivalente con los Estados Unidos. A causa del COVID-19, el proceso queda aplazado hasta julio de 2021. En septiembre de 2021, se re-programa la auditoria del sistema de inspección cárnica dominicana, y tras la misma se elabora un informe final que da paso a la certificación, que es emitida finalmente en abril de 2022. 
 Reto 
El gran reto para que República Dominica recuperara la autorización para exportar carnes a los Estados Unidos, fue implementar un esquema de inocuidad alimentaria eficiente que cumpliera con los requerimientos del FSIS.   
El Proyecto Safe Agriculture/Food Export (SAFE) del USDA, operando localmente como Fortaleciendo la Cadena de Valor de la Ganadería Dominicana (ProGana), representó un apoyo técnico muy importante para la implementación del esquema estatal de inocuidad alimentaria y fomentar una cultura de alimentos inocuos.   
El proyecto, desde sus inicios en el año 2015, constituyó una gran ayuda para el gobierno dominicano. Más que recursos económicos, el Estado necesitaba un acompañamiento, entrenamiento, fortalecimiento de capacidades, e ideas para lograr una implementación eficiente de un esquema de inocuidad alimentaria adaptado a los requerimientos internacionales.  
ProGana a través de su socio implementador la Liga de Cooperativas de los Estados Unidos (CLUSA) y su socio el Instituto Norman Borlaug para Agricultura Internacional de la Universidad Texas A&M (Norman Borlaug Institue for International Agriculture) trabajó mano a mano con la Unidad de Carnes de la Dirección General de Medicamentos, Alimentos y Productos Sanitarios del Ministerio de Salud Pública, (DIGEMAPS). Las visitas periódicas, la comunicación y el seguimiento constante de los especialistas, fueron un aporte estratégico de ProGana. 
ACCIONES 
Recuperar la autorización para exportar productos cárnicos a los Estados Unidos, requirió un cambio en cultura organizacional en las maneras de hacer las cosas y construir un esquema de inocuidad alimentaria eficiente. La construcción de dicho esquema requirió: 
Contratar nuevo personal y capacitarlos

en las labores de inspección a establecimientos autorizados.

 

La elaboración y puesta en práctica de 27 procedimientos oficiales.

 

La elaboración de más de 40 formularios, con el fin de eficientizar las labores oficiales en mataderos.

 

Lograr que las procesadoras cárnicas privadas cumplieran con las regulaciones del nuevo esquema de inocuidad alimentaria. 

 

Lograr que las procesadoras desarrollaran sus propios procedimientos, lo validaran y lo implementaran.

 

Crear una red de laboratorios a nivel nacional e internacional para analizar las muestras que validan el manejo inocuo en todo el proceso. Este fue uno de los requerimientos que tomó más tiempo; desde el año 2017, hasta agosto de 2018. Fecha en la que se dio apertura para trabajar con otros laboratorios además del Laboratorio Veterinario Central, LAVECEN. 

 

Estos especialistas fueron identificando las debilidades del sistema y dando las sugerencias pertinentes para vencer los obstáculos. Fue gracias a las atinadas recomendaciones del consultor estadounidense Victor Cook, que se crea una red de laboratorios nacionales e internacionales, y un staff estatal de auditores, dedicados a cumplir con los requisitos establecidos en cuanto a inocuidad alimentaria.

 

Cook, fue visionario al recomendar el uso de laboratorios internacionales (por ejemplo, el Laboratorio de Análisis de Residuos (LANAR) en Tegucigalpa, Honduras) para complementar el trabajo de los laboratorios locales que validaban o no, el manejo inocuo de las procesadoras. Esta recomendación suya fue posteriormente validada por las autoridades estadounidenses en los informes de evaluación del proceso para lograr la Equivalencia.

 
Apoyo puntual del proyecto USDA FFPr ProGana 
Ayudó a desarrollar la voluntad política para un sistema basado en el riesgo, así como a capacitar funcionarios en gestión de riesgos y sistemas de vigilancia.

ProGana promovió el empoderamiento de grupos de productores como ASOCARNE (Asociación Nacional de Productores de Ganado de Carne), y proveedores de mataderos.

 

Un fundamental apoyo de los consultores de ProGana, fue el acompañamiento y revisión

del llenado de respuestas

de

la herramienta de autoevaluación (SRT), como primer paso para alcanzar la equivalencia. Los mismos fueron revisados y adaptados a la realidad dominicana por la doctora Rori Aaron. 

 

ProGana comenzó realizando inicialmente un análisis de evaluaciones previas del USDA/FSIS, del Sistema de Inspección de Carne de Res (BIS), y de las cadenas de valor de carne de res y lácteos del país. En 2017 se unió a la "Mesa Redonda de Equivalencia" dirigida por la Asociación Dominicana de Propietarios y Agricultores (ADHA). Esta mesa redonda estuvo compuesta por partes interesadas de los sectores público y privado, incluidos los productores de carne vacuna, la Asociación Dominicana de Plantas Procesadoras (ADM), las tres plantas procesadoras más grandes (Mercarne, Agrocarne y Suplidora A&B) y otras agencias relevantes.

 

En lo concerniente a los laboratorios, los consultores de ProGana ayudaron a crear el equipo de auditoría para mejorar los sistemas de laboratorio de SPS. El Ministerio de Salud, a través de DIGEMAPS, hace una solicitud al laboratorio oficial del Ministerio de Salud para la designación de tres auditores externos capacitados por expertos del FSIS en la prevención de conflictos de intereses. Dichas auditorías internas serían para verificar que las prácticas de los laboratorios de terceros cumplan con los requisitos del FSIS.

 

Facilitó el desarrollo, y mejora de 11 políticas, reglamentos, y procedimientos para las partes interesadas del proceso de equivalencia

 

Realizó capacitaciones integrales para todos los componentes del Sistema de Inspección de Carne (BIS), incluidos: requisitos del FSIS, la Ley de Modernización de la Inocuidad de los Alimentos (FSMA), Gestión de Riesgos, Bienestar Animal, Análisis de Peligros y Puntos Críticos de Control (HACCP), Mejores Prácticas de Manufactura (BMP), SPS, Procedimientos operativos estándar de saneamiento (SSOP), Procedimientos de vestimenta sanitaria (SDP) y muchos otros temas de seguridad alimentaria y saneamiento.

 

Identificó insumos falsificados y/o de mala calidad y proporcionó alternativas a los agricultores.

 

ProGana ha apalancado más de US$1,5 millones en inversiones del sector privado.

 
RESULTADOS 
El sistema de inspección de carne dominicano fue auditado por el Departamento de Agricultura de Estados Unidos (USDA), y determinó el 29 de abril 2022 que el control del gobierno dominicano es "equivalente", es decir, tiene un resultado equivalente al control del gobierno de los Estados Unidos. 
En otras palabras, la República Dominicana puede garantizar, de forma equivalente a como lo hace el gobierno americano, que la carne cruda intacta de res que llega a la mesa dominicana, y al mercado americano, es inocua. 
Haber obtenido la equivalencia con el Servicio de Inspección de Inocuidad Alimentaria (FSIS), para que en el país vuelva a habilitarse las exportaciones de carne de res cruda a los Estados Unidos, es el gran logro de esta historia de éxito. Esta aprobación, además abre las puertas para exportar en un futuro hamburguesas, carne molida, carne triturada, entre otros cortes cárnicos industriales. Actualmente la Equivalencia permitirá exportar al mercado estadounidense de Puerto Rico carne industrial, usada para moler.  
Al sistema haber completado ya una primera fase, los requerimientos para nuevos productos de mayor valor agregados serán mínimos. De hecho, la intención del reglamento creado a raíz de alcanzar la equivalencia, es expandirlo a otros rubros como cerdo, ave de corral, huevos, y productos derivados de huevos. 
Haber alcanzado la Equivalencia es a la vez un incentivo para la producción ganadera que contará con más demanda y trabajará con precios estables. El aumento en la producción ganadera a nivel general beneficiará a la vez a la ganadería de leche. La industria ganadera se fortalecerá, y se automatizará, lo que a vez generará más fuente de empleos y un incentivo positivo para fomentar el desarrollo del sector bovino dando lugar a una economía de exportación. 
Luego de una espera de 25 años, alcanzar este logro representa para el Gobierno dominicano la creación de empleo, la inocuidad alimentaria bovina, el fortalecimiento del comercio, y de la industria ganadera. Tras lograr la Equivalencia, República Dominicana garantiza al pueblo dominicano y al consumidor americano, un producto cárnico inocuo.