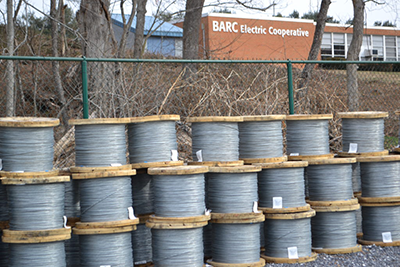 Seven electric cooperatives that serve communities in Appalachia won nearly $10 million in federal grants to build fiber-optic networks and bring broadband internet access to residents and businesses hurt by the decline of the region's coal industry.
The Appalachian Regional Commission (ARC) expects the $9.6 million awarded to the co-ops in October to go a long way toward diversifying and strengthening rural economies hit hard by job losses in mining, power plant operations and coal-related supply chain businesses.
BARC Electric Cooperative in Lexington, Virginia, received $1 million; Buckeye Rural Electric Cooperative in Rio Grande, Ohio, $2.5 million; French Broad EMC in Marshall, North Carolina, $1.9 million; Holston Electric Cooperative in Rogersville, Tennessee, $862,017; Tombigbee Electric Cooperative in Hamilton, Alabama, $774,912; and Washington Electric Cooperative in Marietta, Ohio, $24,500.
Tri-County Rural Electric Cooperative in Wellsboro, Pennsylvania, will work with Tioga County, which is getting a $2.5 million ARC grant to build a 175-mile fiber-optic network across three counties. Tri-County is providing $3.2 million toward the project.
Buckeye REC will use its grant to build a 168-mile fiber backbone for two-way communications between its corporate office and its substations in six counties. The co-op said it will add $1.1 million, or 30 percent of the project's cost, in cash and services.
"We are excited to be part of the first step toward the expansion of broadband into areas of southeastern Ohio, where it would not otherwise be possible," said Tonda Meadows, Buckeye REC executive vice president and general manager.
Fiber will improve system reliability and security and allow for future retail broadband by regional internet service providers, the co-op said.
"The advent of rural broadband development is imperative to the sustainability and advancement of Ohio's pastoral communities," said BREC Board President Paul Berridge. "High-speed internet access does more than link us to the global village—it connects us to healthcare, educational opportunities, and commercial growth. Buckeye Rural Electric Cooperative is pleased to be the gateway toward the expansion of rural broadband access."
The grants are part of ARC's POWER initiative—Partnerships for Opportunity and Workforce and Economic Revitalization—which gave a total of $44.4 million to 54 projects ranging from broadband to job training to substance abuse recovery services. ARC expects these targeted funds to help retain or create more than 5,700 jobs, sustain 3,000 businesses, train thousands of workers, and leverage more than $39 million in private investment.