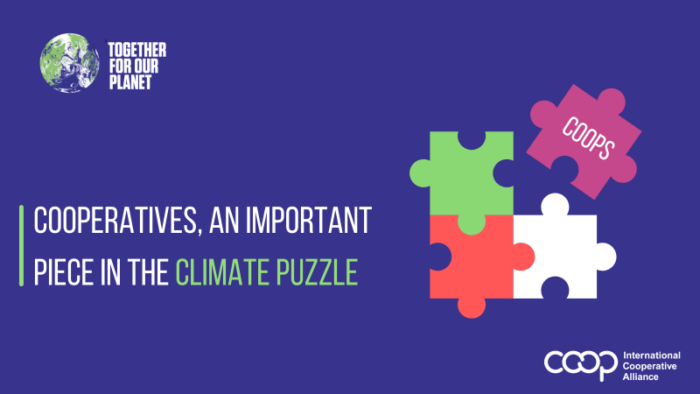 As world leaders gather together in Glasgow for the UN Climate Change Conference COP26, here's a brief look at some of the ICA's activities on the topic of environment and climate, as well as a useful recap of resources that demonstrates the potential of cooperatives and their contributions to climate action.
Firstly, the ICA-EU Partnership (also known as #coops4dev) released its latest global thematic research report, entitled 'Cooperation for the transition to a green economy'. This new #coops4dev report examines ways in which cooperatives can contribute to climate action and the ecological transition, featuring eight case studies from different countries.
On the same day the report was released, the ICA participated at the recent UN Food Systems Summit. The organization released several recommendations highlighting the crucial role of cooperatives in sustainable food systems, including how cooperatives can promote agriculture that is in harmony with nature and shift to healthier and more sustainable consumption patterns.
And in June this year, on World Environment Day, the ICA's think tank (ICETT) held a webinar entitled 'Cooperatives for an Environmentally Just Future'. Organized in collaboration with EURICSE, over 160 people joined for the webinar, which discussed the practices and policies of large cooperatives in protecting the environment. Watch the full recording here.
Beyond these activities, the ICA has been active in promoting the cooperative model at the international level, including on the topics of Climate, Biodiversity and Ecological Transition and Agenda 2030 through C20 working groups at the G20, a forum for international cooperation.
And last year, as the International Day of Cooperatives was dedicated to #Coops4ClimateAction, a policy brief by the Committee on the Promotion of Cooperatives (COPAC) showed how cooperatives are increasingly involved in both climate change adaptation and mitigation. The #Coops4ClimateAction campaign also highlighted several examples from ICA members of cooperatives around the world that can be found via an interactive map.  COPAC briefs for other SDGs, such as SDG 7 and SDG 12, can be found here.
What these examples show is that cooperatives do take action to build sustainable and resilient societies, and they will continue to work towards the UN 2030 Agenda and the Sustainable Development Goals (SDGs), in all sectors of the economy.
In the run up to COP26, all strategies for emissions reduction, biodiversity restoration and structural economic change should be considered. The ICA is taking steps to ensure cooperatives and a suitable enabling environment for their development can become an important piece of the climate puzzle.