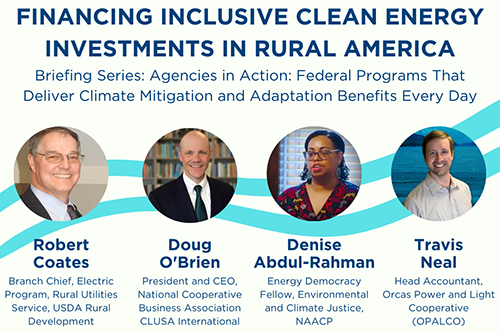 NCBA CLUSA President and CEO Doug O'Brien spoke last week as part of a Congressional briefing hosted by the Environmental and Energy Study Institute (EESI). The briefing, "Financing Inclusive Clean Energy Investments in Rural America," focused on the U.S. Department of Agriculture (USDA)'s Rural Energy Savings Program.
The briefing opened with remarks from South Carolina Congressman and Democratic Whip James E. Clyburn (SC-06). Clyburn was instrumental in drafting the initial legislation that was ultimately included in the Agricultural Act of 2014 to authorize the Rural Energy Savings Program. Clyburn was motivated to find this policy solution after hearing from his constituents with extraordinarily high monthly energy costs—forcing some households to choose between paying utility bills and putting food on the table.
Programs like the Help My House program offered by Santee Electric Co-op in South Carolina use RESP funds to help reduce household energy burdens. Clyburn also highlighted the investments from the Infrastructure Investment and Jobs Act that will complement programs like RESP to mitigate the climate crisis.
Investing in electric co-ops
Next the briefing featured Robert (Bob) Coates, Branch Chief of Electric Programs at the U.S. Department of Agriculture Rural Utilities Service, the office that administers RESP. According to Coates, RESP is part of USDA's re-lending portfolio. USDA administers loans to eligible borrowers—which include electric co-ops—at zero percent interest for a ten-year term. Electric co-ops subsequently re-lend these funds to households and small businesses in its rural service area to invest in a wide variety of energy efficiency and renewable energy projects.
As of FY2021, RUS has administered 31 RESP loans ranging in size from $150,000 to $50 million to electric co-ops and other eligible borrowers totaling over $180 million. To date, the program has not had a single late or delinquent repayment. This success helps to improve the leveraging power of the program—more than $200 million is available for RESP in FY2022.
Coates concluded by highlighting the many stakeholders that benefit from these investments: consumers see reduced energy costs and higher quality of life; the cooperative reduces peak usages and infrastructure costs; positive environmental benefits through decarbonization; and finally reduced impact on social programs like energy assistance and healthcare.
Lifting energy burdens
NCBA CLUSA president and CEO Doug O'Brien began his remarks by speaking about the benefits of cooperation and cooperatives' role in this sector. In the case of rural utilities, electric cooperatives were a critical solution where private investment failed. Cooperatives have a higher survival rate than other business models and demonstrate a greater commitment to the communities they serve, which spurs further local investment and growth. Today, electric co-ops serve 56 percent of the nation's landmass, powering more than 20 million businesses, homes, schools and farms. Annually, electric co-ops support more than 600,000 jobs and invest $12 billion in their local economies.
Importantly, O'Brien noted, electric co-ops serve more than 90 percent of the nation's persistent poverty counties. This is compounded by the fact that rural households face higher energy burdens than non-rural households. Energy burdens—the percent of household income spent on energy costs—is even worse for renters, low-income households, seniors and manufactured home owners. RESP also benefits from the use of on-bill financing, which removes the hurdle of major upfront costs to households and allows households to pay back the energy efficiency improvements through their monthly utility bill. These benefits make the Rural Energy Savings Program critical to communities where reducing energy costs can increase disposable income available to a household, and where families may face tough decisions around paying for food, gas, education or medicine.
"The Rural Energy Savings Program is critical to communities where reducing energy costs can increase disposable income available to a household, and where families may face tough decisions around paying for food, gas, education or medicine." – Doug O'Brien
Energy as a human right
Last week's discussion also featured Denise Abdul-Rahman, Energy Democracy Fellow for the Environmental and Climate Justice Program at the National Association for the Advancement of Colored People (NAACP). Abdul-Rahman described energy as a human right—no one should die from cold in the winter or from heat in the summer. She also reiterated the challenges of rural energy burdens, data she and O'Brien both cited from a 2018 report by the American Council for an Energy Efficient Economy. Abdul-Rahman also noted how energy burdened households may face compounding impacts as they relate to pre-existing health conditions like asthma. In her comments, Abdul-Rahman discussed the importance of a just energy transition, including ensuring that job opportunities are equitable, as well as other activities like equitable placement of Electric Vehicle charging stations. These will be critical steps to ensuring that we are "building communities where people can thrive where they work, play and worship," Abdul-Rahman said.
The Switch It Up! case study
Finally, the panel featured Travis Neal, Head Accountant at Orcas Power and Light Cooperative (OPALCO), an early implementer of RESP to provide a case study. OPALCO has served 20 islands off the coast of the state of Washington since 1937. OPALCO was looking for a beneficial electrification program to help the co-op and its community. Since launching the Switch It Up! program, OPALCO has helped finance more than 220 projects on local homes and small businesses, totaling over $20 million in local investment. These investments are wide-ranging, including Fiber-To-Premise, community and residential solar, battery storage and weatherization measures, taking a holistic approach to reducing energy burdens across the islands. Having grown over the years, Switch It Up! offers consumers different options for improving the energy efficiency of their homes.
Neal also highlighted several ways in which the program has impacted their co-op. This includes expanding the co-op's role in the community, fostering partnerships with local small businesses, positioning the community for the future, and sharing lessons learned with other co-ops across the country. Importantly, Neal also discussed the focus of inclusivity within Switch It Up!, working to ensure that low-income members can equitably participate and be an active partner in energy investments.