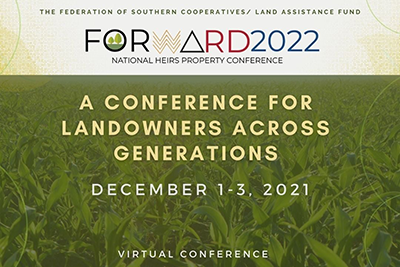 Are you an heirs' property owner? Are you looking for a path forward that leads to wealth creation and asset building for your family's land? Don't miss this opportunity to learn how to clear your title, secure your landholdings and build generational wealth on family land!
Join the Federation of Southern Cooperatives/Land Assistance Fund virtually from December 1-3, 2021 for Forward 2022, the National Heirs' Property Conference. Registration is now open for federation members, supporters and landowners seeking to learn best practices in land management.
The nation's largest gathering of heirs' property owners and passionate land retention practitioners from across the U.S., Forward 2022 offers an opportunity to attend interactive master classes taught by experts and one-on-one meetings with resources professionals. The conference also includes workshop materials to help your family create an estate plan.
The Forward 2022 Boot Camp creates an opportunity for 100 heirs' property landowners to get practical information for resolving their heirs' property issues including an in-depth 12-month checklist to guide their efforts to clear their title, create an estate plan, resolve family conflicts and much more. With this year's joint landowner-practitioner Boot Camp, landowners will also get the opportunity to interact directly with 100 heirs' property practitioners including attorneys, tax professionals, USDA officials, and academic experts who will share best practices and strategies to help landowners take active steps to transform their heirs' property from a liability to a wealth-generating asset.
The Federation of Southern Cooperative/Land Assistance Fund's history of using successful land retention strategies has focused on outreach, education, and technical assistance in resolving heirs property issues, estate planning, and developing alternative ownership models such as corporations, cooperatives, trusts, limited liability companies, and intra-family buy-outs. The federation's Regional Heirs Property and Mediation Center works with 100 heirs annually across the Black Belt Region.