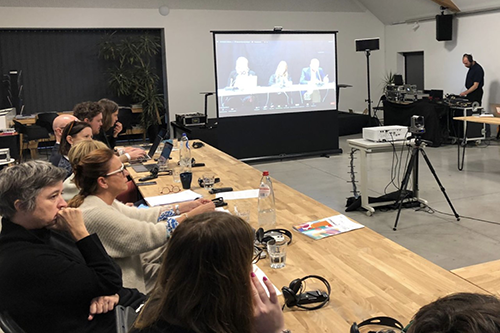 NCBA CLUSA board member Erbin Crowell participated in a hybrid side event hosted by the International Cooperative Alliance as part of the UNESCO World Conference on Cultural Policies and Sustainable Development – Mondiacult 2022.
Held September 26 under the theme, "Cooperatives are Key Stakeholders in advancing SDGs through Culture and the Creative Sector," the event advocated for including cooperatives in global policy discussions and action around sustainable development. Specifically, it positioned cooperatives as key stakeholders in advancing the United Nation's Sustainable Development Goals (SDGs) through culture and the creative sector.
Leaders and practitioners active in cooperatives, culture, politics and education joined panels and discussions held in person in Brussels, Belgium and online, exploring the links between co-ops and culture, and how these links could be strengthened and developed for a sustainable future.
Event speakers presented research and concrete case studies to demonstrate how cooperatives in the cultural sector are a viable alternative with a proven track record for organizing workers in the cultural and creative sector. Speakers also considered how cooperatives can collaborate for policies around sustainable development, and how education can be a tool for promoting the culture of cooperation as an intangible cultural heritage of humanity.
Crowell, who serves as Executive Director of the Neighboring Food Co-op Association (NFCA), presented alongside Danila Salerno, director of Cooperatives of the Americas, during a discussion called "Education as the Key to a Better World: Thematic Perspectives from the ICA Cooperative Identity Advisory Group on Principle 5."
Early cooperators like the Rochdale Pioneers "put education at the center of their efforts to empower working people," Crowell said. Meanwhile, indigenous communities around the world harnessed cooperatives not only as a "tool for sustainable economic development," but also to preserve their environments, languages and cultural traditions. Global trade brought the two groups together. "This alternative model for globalization—of building economic, social and cultural partnerships based in solidarity and mutual benefit—involved a high level of community engagement and education," Crowell said.
Education is still critical to empower people in their economic lives, he added. "Democracy, and particularly economic democracy, is not viable without a commitment to ongoing education. This was recognized from the start of our movement, and I believe it's central to the needs of our time today," Crowell said.
The event was co-organized by the International Organisation of Industrial and Service Cooperatives (CICOPA) and Cooperatives of the Americas, and designed with partners from around the world.