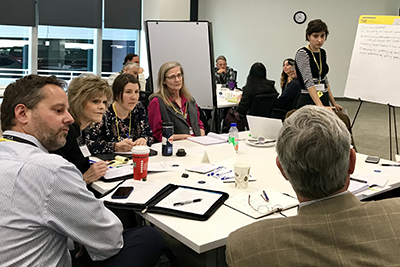 If you're a cooperator living or working near Harrisburg, Pennsylvania or Denver, Colorado, chances are you've joined us for one of the first two events in a series of regional Cooperative Policy Roundtables we're hosting nationwide in partnership with the Cooperative Development Foundation and local stakeholders.
We've got four more roundtable events—in Sacramento, California; Madison, Wisconsin; St. Paul, Minnesota; and Olympia, Washington—planned for later this year.
These conversations are part of ongoing research funded by the Robert Wood Johnson Foundation to quantify the social and economic impact of cooperatives—part of the philanthropy's longtime focus on healthy communities. This work began with a framework for measuring co-op impact developed in partnership with the Urban Institute and will result in a policy paper meant to inform needed policy changes at the local, state and federal levels.
The roundtable series will culminate at this year's Co-op IMPACT Conference from October 2-4 in Arlington, Virginia. Register now to attend our opening plenary session featuring the best ideas from local leaders, policymakers and cooperative development experts across the country. We'll identify the most significant strategic national, state and local policies, financing mechanisms and other systems and structures that currently support or impede cooperative development. And we'll present crowd-sourced, actionable ways to achieve an enabling policy environment in which cooperatives can thrive.
With 65,000 cooperative establishments and a total membership of more than 115 million people, co-ops are already a powerful part of the U.S. economy. And while they contribute to the creation of healthy, sustainable and equitable communities, policies at the national, state and local level are hindering their growth and development.
Register now for IMPACT 2019 and be part of the first-ever effort to establish a national policy strategy that identifies how our legal environment could better enable co-op development.
Under the theme "Power in Purpose: Building the Next Economy," IMPACT 2019 will amplify how cooperatives—as principled, purpose-driven businesses—are building a stable, sustainable economy. Early-bird rates are available through August 1!