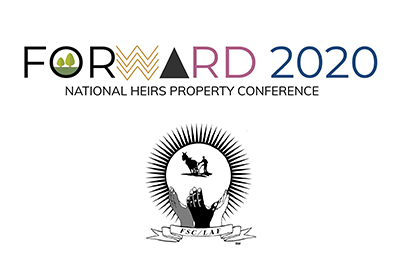 For decades, black families have watched their land auctioned on courthouse steps, been forced to sell property against their will, or were left out of helpful U.S. Department of Agriculture (USDA) programs and services. The Federation of Southern Cooperatives/Land Assistance Fund is meeting in Atlanta, Georgia this week for its inaugural FORWARD 2020: National Heirs Property Conference.
The December 4-6 event provides an opportunity for experts to work with 100 at-risk landowners to address one of the primary drivers of black land loss and underutilization—heirs' property. Heirs' Property is created when a landowner dies without a will or other form of estate plan to transfer ownership of his/her land; subsequently, heirs' property owners are left without a clear title to the land they own. Today, it is estimated that over 60 percent of all black-owned land is heirs' property.
FORWARD 2020 will offer master classes taught by experts and opportunities for landowners to meet one-on-one with resource professionals. The intensive, two-day conference will be a one-stop shop to provide heirs with everything they need to create a path forward to asset creation, wealth-building and opportunity.
The National Heirs Property Conference will feature two tracks: Track 1 will focus on how heirs' property owners can kickstart their efforts to resolve their heirs' property issues and unlock their land's wealth potential; Track 2 will focus on professionals who work with heirs' property owners, offering train-the-trainer educational sessions and master classes to sharpen skills and share peer-to-peer learning. Track 2 will also include a comprehensive workshop on heirs' property legislation and regulations as outlined in the 2018 Farm Bill.
"This conference will be a game changer for many farm families with heirs' property," said Monica Rainge, director of Land Retention and Advocacy at the Federation. "It is intentionally designed to empower heirs' property owners with the strategies and resources to [obtain a] clear title and make their land a wealth-building asset."
For over 52 years, the Federation of Southern Cooperatives/Land Assistance Fund has assisted heirs' property owners in land retention and sustainable development. The Federation's history of using successful land retention strategies has focused on outreach, education, legal and technical assistance to resolve heirs' property issues such as estate planning and developing alternative ownership models including corporations, cooperatives, trusts, limited liability companies and intra-family buy-outs.
To attend FORWARD 2020, visit the conference website or call the Federation's Atlanta office at (404) 765-0991.