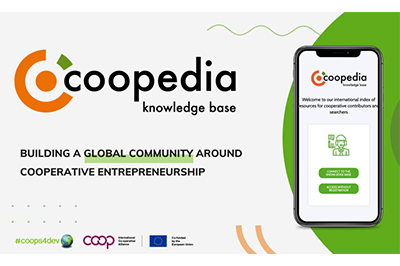 The International Cooperative Alliance and its regional offices are launching a global campaign to expand the use of the Coopedia Knowledge Base, an innovative and collaborative search engine collecting a wide range of learning resources in multiple languages on cooperative entrepreneurship.
"The COVID-19 pandemic has brought new ways of working across the world and Coopedia is a great initiative in this process as it brings digital innovation to knowledge sharing—enabling more organizations and actors to get involved and stimulate cooperative entrepreneurship," ICA said in a press release.
Developed by Cooperatives Europe in September 2020 under the #coops4dev framework, Coopedia is designed to support entrepreneurs in creating a cooperative business. Embracing cooperative Principle #5 (Education, training and information), it provides resources to guide cooperative startups. As a collaborative tool, the Coopedia Knowledge Base lays the foundation for better cooperation among individuals and organizations aiming to transform the economy through the cooperative model.
The Knowledge Base grows with the contributions of cooperative mentors and experts around the globe, who index resources about cooperative entrepreneurship such as tools, guides, research publications, documentary videos and online training sessions. Coopedia has two types of users: Contributors and Searchers. By registering to Coopedia as a Contributor, the user can share relevant resources and peer review resources posted by other Contributors in the global community. These indexed resources are accessible to Searchers, who can search for resources. Searchers can be entrepreneurs, students or any person wishing to learn more about the entrepreneurial character of cooperatives.
Get Coopedia on your website
Any organization interested in cooperative entrepreneurship can join the federated network by installing the Coopedia Knowledge Base on its website. The Coopedia installations can connect to the rest of installations in a federated network – creating a decentralized knowledge-sharing ecosystem. Through Coopedia, organisations will have the opportunity to usher in new partnerships with key actors like cooperative organizations, universities, training centers, local authorities and civil society organizations with a shared interest in the cooperative business model.
If you are interested in learning more or integrating Coopedia on your online platform, send an email to h.persson@coopseurope.coop.
---
The ICA-EU partnership on international development, known as #coops4dev, was signed in 2016 between the International Cooperative Alliance and the European Commission to strengthen the cooperative movement as key actor in international development.