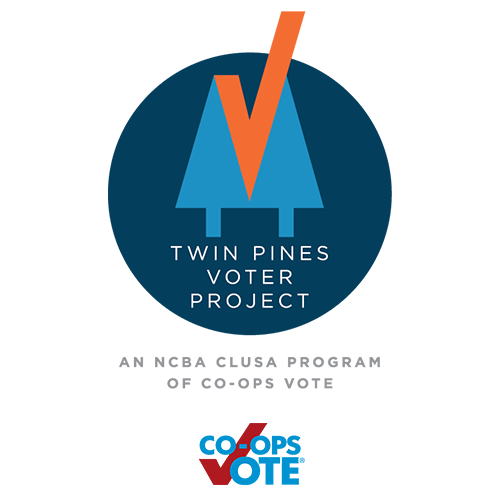 National Voter Registration Day, which takes place on September 20, 2022, is just over two months away! Become a community partner at https://bit.ly/coopsvote.
NCBA CLUSA has been excited to see the early engagement from cooperatives across the country participating in the Twin Pines Voter Project to engage with candidates and help your member-owners and communities register to vote. For example, Flat Iron Cooperative in Bellows Falls, Vermont has hosted six candidate meet-and-greets at their co-op in just their first six months of being open!
Participate in the Twin Pines Voter Project by submitting your activities here
According to the National Voter Registration Day 2021 Annual Report, co-ops were critical organizations to help people register to vote or update their registration last year. Co-ops—alongside libraries, veteran organizations, government offices, and high schools—accounted for approximate one-third of all community partners.
Co-ops have a customized link that will show the strength of the cooperative community participating in National Voter Registration Day 2022 at https://bit.ly/coopsvote to host a virtual or in-person voter registration drive this year.
Leading up to the national civic holiday, our Co-ops Vote partners at the National Rural Electric Cooperative Association have created new resources and additional features for cooperatives to use at the Vote.coop website.