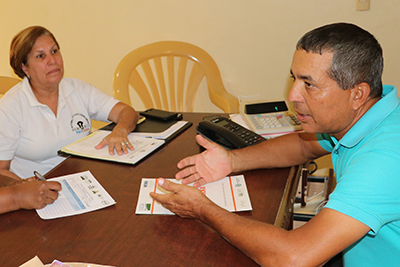 One of the biggest barriers faced by the livestock sector in the Dominican Republic is the inadequate provision of electricity. From the farm to the processing plant, electricity is needed to perform the most basic tasks. Yet, in Dominican Republic's milk capital, electricity is scarce and, in some places, nonexistent. The Safe Agriculture Food Export (SAFE) Project, implemented by NCBA CLUSA and funded by the U.S. Department of Agriculture (USDA), has partnered with the Santiago Rodriguez Livestock Farmers Association to install a solar panel system at its milk collection center.
Santiago Rodriguez is a province situated along the northwestern coast of the Dominican Republic with an economy based almost entirely on milk production, yet its profitability and quality are constantly threatened by power outages or lack of electricity provision in some places. Additionally, the cost of electricity is one of the highest in Latin America, which impedes the profitability of the sector. Because of frequent power outages and the high cost of electricity, milk collection centers (MCCs) cannot guarantee the correct temperature, gravely affecting the milk's quality and quantity that a MCC can receive any given day.
Jorge Bernard is president of the Santiago Rodriguez Livestock Farmers Association. After a successful experience with solar panels on his own farm, he submitted a project proposal for a matching grant to procure and install solar panels to bring energy stability to a milk collection center where more than 50 small dairy farmers deliver milk every day. SAFE, known locally as Progana, provided the association with a matching grant in the amount of USD $28,385 for a total project value of USD $56,768 to facilitate the purchase and installation of the solar panels.
"When we learned that SAFE was going to support local projects to improve dairy farming, we thought that this was the right project for us," Bernard said. "I think that we exist today as cattle ranchers thanks to the SAFE Project because even though at the moment we have a serious crisis due a drought, we have been able to reduce our expenses by 80 percent."
From survival to sustainability
Thanks to the savings generated in electricity, the association is now able to shift from survival mode to improvement, ultimately positioning it to work toward sustainability. SAFE is coupling the matching grant project with technical trainings on animal nutrition, animal health, animal well-being, farm/MCC management, milk quality and milk management.
In order to foster good management practices, the co-financing agreement requires the association to keep a thorough MCC accounting logbook. While association employees were previously not trained on accounting principles and reporting, now, through SAFE, they submit regular financial reports, Bernard said.
"We can now manage ourselves," he added.
SAFE has a track record of supporting environmentally-friendly initiatives that help build resilient communities. The project's technical team promotes sustainable solutions to tough problems faced by small communities in the 11 provinces the project encompasses. During the grant project's design phase, SAFE's grants team helps the applicants design projects for the longterm and continuously follows-up to ensure that investments will be sustainable after the project ends.
"We chose the solar panels because we have always been confident that renewable energy is something that must be recognized," Bernard said.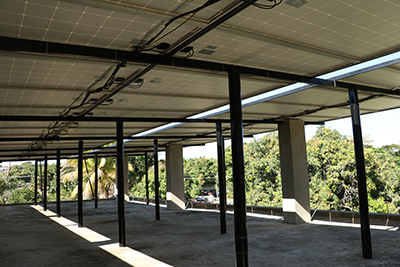 The next generation of cattle ranchers
Part of SAFE's vision to strengthen the Dominican livestock sector is the introduction of improved techniques and technologies at the farm level, something that is critical to the future of the sector, Bernard said.
"I think we have to keep in mind the ones that come after us—our grandchildren. They must understand that the farm is important, that if the farm does not produce rice, you do not eat rice; if you do not produce yucca, you do not eat yucca," he said.
One of the main worries of the Dominican cattle rancher family is that generational transfer. Cattle ranchers want to make sure their children feel a sense of pride and purpose for the field, and that cattle ranching is not only a tradition, but a business. "We are involving youth in this. We are trying now to think differently from my dad or my grandfather, and to introduce genetics where the livestock is much more productive and profitable."
Cattle ranchers in Santiago Rodriguez realize that innovation is the key to ensuring continuity. That's one reason why this town is home to a group called the "New Livestock Generation" dedicated to ensuring that livestock farming in the province is efficient, productive and competitive. Many farmers are leading the way on their own farms by installing solar panels for irrigation systems, implementing mechanical milking and using cameras to monitor farm productivity and well-being.
"When there is no milk, there is nothing."
Not only is milk production the main industry in Santiago Rodriguez, but it has become a point of survival. The province sells more than 4,800 liters of milk per day and, at the current price of DOP $22/liter (USD $0.43), total sales are approximately DOP $3,168,000 (USD $62,032.50) per month.
"Here, we don't have bananas, we don't have rice, we don't have a free trade zone… here we only have milk and a few small businesses. It is a province totally comprised of milk producers. Here, when there is no milk, there is nothing," Bernard said.
The Santiago Rodriguez Livestock Farmers Association supplies Nestle Dominicana with fresh milk. Being able to comply with Nestle's quality standards is important to both parties, which is why Nestle is closely following the performance of the solar panels in the MCC and is considering financing similar projects in other parts of the country. The association also partners with the government to provide pasteurized milk for school breakfast programs.
The solar panel installation has revitalized the cattle ranching sector in Santiago Rodriguez. Bernard says the association members are now thinking further ahead—to accessing new milk markets and even producing cheese for export.
A path forward
Milk production boomed in Santiago Rodriguez after 1977, when Nestle arrived in town and cattle ranchers associations emerged. That's when the Santiago Rodriguez Livestock Farmers Association was founded. Over time, though, the association dwindled.
Jorge Bernard has been president of the association for 15 years, during which time he's transformed it for the better. "Fifteen years ago, this was a dead project with a debt of about DOP $3 million pesos. There was nothing," he said. "But we grabbed it and relaunched it and look at it today—this is a very good project."
Bernard added that Progana has provided the best support the association has received from an institution since it was established more than 40 years ago. And it's not just the financing. "I believe that knowledge also has a great value, because if I have money but I do not know what to do with it, then I cannot grow."