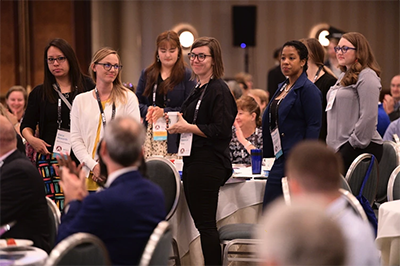 Join emerging co-op employees, board members, and post-secondary students at the 6th Annual Cooperative Leaders & Scholars (CLS) program on October 4 – 6.  CLS is an opportunity to be a part of a cohort of cooperators learning from co-op industry thought leaders, policymakers, and other stakeholders. CDF and NCBA CLUSA are offering eligible candidates scholarships to attend the program.
CLS participants will:
Participate in an exclusive orientation, networking, and wrap-up events designed specifically to broaden their understanding of the impact cooperatives, mutuals, and credit unions have on members, communities, and the broader economy.
Attend the Co-op IMPACT Conference from October 5-6 in Washington, DC
Attend the Cooperative Hall of Fame Reception and Awards Ceremony on October 6
Participate in a virtual St. Mary's University cooperative management course
Scholarships are open to:
Young professionals (ages 18 – 35) beginning their career in cooperative businesses, credit unions, and mutual insurance.
Post-secondary students of any age with an interest in co-ops, credit unions, and mutual insurance.
"An in-person CLS is an inspiring and formative experience for any up-and-coming cooperator," said Mary Griffin, CDF Executive Director. "Networking among peers, meeting experienced cooperative leaders, and engaging with Cooperative Hall of Fame heroes helps participants and those they interact with see principles such as community and cooperation in action."
20 scholarships for CLS will be awarded through a competitive process that considers background, geography, and experience to create a diverse cohort. The Cooperative Development Foundation and NCBA CLUSA will review and select scholarship recipients.
Deadline for applications is July 1. Scholarship recipients will be announced on July 15. Contact Julia Selig at jselig@ncba.coop for more information.
Your sponsorship can help CLS flourish!
A $2,000 sponsorship will cover IMPACT, Cooperative Hall of Fame, and St. Mary's University registrations, airfare, and accommodations for one attendee. You may either name the attendee you would like to sponsor or permit us to open the spot to applicants in our competitive scholarship process. Contact Kirstie Boyette about sponsoring the program or a participant at kboyette@ncba.coop.