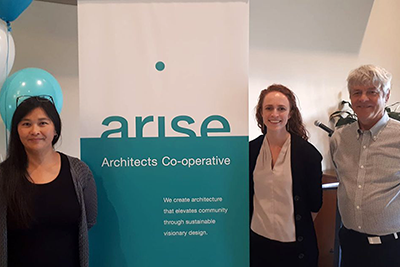 As baby boomers prepare for retirement, close to half of the nation's privately-held businesses—employing one in six U.S. workers—could face buyout or closure. But there's another option that preserves quality jobs and the capacity to build wealth in the community: worker co-op transitions. This architecture firm in Ontario is a great example. 
A 41-year-old firm in Guelph, Canada, has transitioned to a worker cooperative.
Arise Architects Co-operative—formerly known as J. David McAuley Architect Inc.—is the oldest architectural firm in the city. Founder David McAuley has designed churches in over 200 municipalities across Ontario, as well as other projects Cornwall, Kenora, Windsor and Rock Falls.
While he is not looking to retire imminently, transitioning to a worker co-op and becoming a member-owner himself gave McAuley the ability to share the responsibility and the workload and ease into retirement in the future.
Danielle Gignac, one of the firm's worker-owners, told the Ontario Co-operative Association that, "In many ways, our methods have been cooperative for some time, with our commitment to working together to improve our communities, and our collaborative approach to design."
Yvonne Ip, another Arise member-owner, who has a long personal history of involvement in cooperatives, added, "Cooperatives have a triple bottom line that includes social, environmental and financial returns. These are the returns we aim for both as a business and in the architecture we practice. Becoming Arise Architects Co-operative was a no-brainer."
The employee owners think the firm's environmental ethic and passion for building sustainable communities are very aligned with cooperative business values.
According to the Ontario Co-operative Association, McAuley attributes the firm's success to a collaborative approach, which, he says, is also crucial during this transition period. "You need to work together to make a smooth transition," he said.