Four outstanding cooperative leaders will receive the cooperative community's highest honor on May 3, 2017, when they are inducted into the Cooperative Hall of Fame.
The inductees are Rita L. Haynes, CEO emeritus of Faith Community United Credit Union, John D. Johnson, retired president and CEO of CHS Inc.; Richard Larochelle, retired senior vice president of the National Rural Utilities Cooperative Finance Corporation; and John & Carol Zippert, cooperative activists with the Federation of Southern Cooperatives.
These cooperative leaders will be recognized at the annual Cooperative Hall of Fame dinner and induction ceremony at the National Press Club in Washington, D.C., on the evening of May 3, 2017. In conjunction with the ceremony, a public forum on cooperative development and leadership will be held in the afternoon.
"Induction into the Cooperative Hall of Fame is reserved for those who have made genuinely heroic contributions to the cooperative community. The 2017 inductees join a host of extraordinary Hall of Fame members who have contributed significantly to the advancement of the cooperative movement," said Gasper Kovach, Jr., board chair of the Cooperative Development Foundation, which administers the Hall of Fame.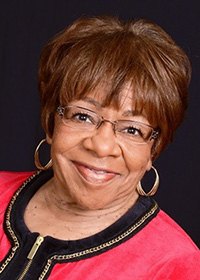 Rita L. Haynes, CEO emeritus, Faith Community United Credit Union
Attracted to the credit union movement by its motto—"not for profit, not for charity, but for service"—Rita L. Haynes began volunteering for the Mt. Sinai Baptist Church Credit Union (BCCU) in 1958, just six years after it was chartered, where she served as an unpaid volunteer for more than three decades. She shepherded the institution from a tiny office in a church basement to a free-standing credit union occupying a former bank branch office on Cleveland's east side-a financially disadvantaged community marginalized by mainstream institutions. Under the direction of Haynes, the credit union provided not only much-needed financial services for church members, but also the guidance and financial education to help members build assets. Today, it serves some 6,000 members and counts $12 million in assets.
From 1982 to 1992, Haynes served as chairman of the Inner City Association of Minority Credit Unions, comprised of 28 church credit unions in Cleveland. During those years, Mt. Sinai BCCU and Antioch BCCU signed an agreement with the City of Cleveland's Minority Business Development Department to establish a $200,000 revolving loan fund to provide small business loans to minority contractors. This cooperative effort was a first in Cleveland and assisted many small business owners to obtain contracts with the city.
With the abandonment of Cleveland's inner city by banks and savings and loans in 1989, Haynes decided that Mt. Sinai BCCU's future lay in providing needed financial services to the entire community. So she worked with a community cooperative organization comprised of businesses and religious organizations to obtain a charter for Cuyahoga County, which includes inner city Cleveland. In the process, Mt. Sinai BCCU changed its name to Faith Community United Credit Union in 1990 and opened its membership to anyone living, working or worshipping in Cuyahoga County. A year later, Faith Community United CU became self-supporting and doubled its membership. Under Haynes leadership, the credit union applied for and received the U.S. Treasury Department's certification as a Community Development Financial Institution (CDFI) in 1997. In 1999, Faith Community United CU became an approved SBA lender.
Haynes direction transformed the credit union industry. In the late 1980s and early 1990s before society recognized the dangers of predatory lending, Faith Community United CU's innovative "Grace," "Greater Grace" and "Mercy" loan programs provided community members with a trustworthy and affordable alternative to payday lending, while simultaneously offering a stable financial relationship with a reputable community-based financial institution. Under Haynes' direction, Faith Community also established a "Wheels" program that helped people pay for car repairs so they could get back to work. Because Haynes was at the forefront of the movement against predatory lending, she testified at numerous congressional hearings.
In 2005, Haynes received the Pete Crear Lifetime Achievement Award of the African-American Credit Union Coalition. In 2009, she received the highest award within the credit union movement-the Herb Wegner Award for Individual Achievement. She served as chair of the National Federation of Community Development Credit Unions Board of Directors for six terms. Her leadership was instrumental in keeping the Federation together and expanding its influence. In 2012, the Ohio Credit Union League named their network for small credit unions ($35 million and under) the Haynes Circle to honor Rita. Her commitment to the cooperative principles and deep faith in economic justice are legendary.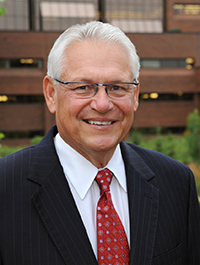 John D. Johnson, retired President & CEO, CHS Inc.
Born in Rhame, North Dakota to parents who ran a wheat farm and cattle ranch, John D. Johnson from an early age developed a love of the land and the people who earn their livelihoods from it. After earning a bachelor's degree in business from Black Hills State University, he began his cooperative career as a feed salesman with GTA Feeds. During the mid-1970s, Johnson worked his way up through the Minnesota-based co-op, which merged with North Pacific Grain Growers in 1983 to form Harvest States Cooperative. By 1995, Johnson was its president and CEO.
As competition within the agricultural industry intensified, Johnson envisioned a revolutionary path for Harvest States, beginning with a merger he helped orchestrate. During this critical point in his career, he was also battling a cancer diagnosis. Still, in 1998 Harvest States and Cenex-an agricultural supply and energy cooperative-successfully merged under Johnson's guidance to create CHS, a full-service grain-marketing, energy and agricultural cooperative serving members across the Midwest, West and Pacific Northwest. The merger was a game changer in the cooperative movement, positioning CHS to compete in the global agribusiness market. Two years later, Johnson became the new organization's president and CEO.
Under his leadership, CHS consistently outperformed most of its public-company competitors and secured its current status as the largest farmer-owned agricultural co-op in the U.S. The company's revenue grew from $8 billion to $40.6 billion during his tenure. At the time of Johnson's retirement in 2010, CHS was ranked a Fortune 100 company.
Once CHS had the size and scale to have real impact, Johnson set his sights on taking the co-op global-not initially an easy sell for a co-op whose members were exclusively U.S. farmers and ranchers. But Johnson knew that relying solely on the U.S. farm production would limit CHS's growth and ultimately lead to market loss for its members. Using his unparalleled communication skills and dedication to honesty and transparency, Johnson was able to convince stakeholders that CHS needed to be global to effectively serve its members and survive in an increasingly global marketplace. Not many business leaders have the opportunity to play an integral role in the creation of a new organization; even fewer profoundly shape the direction and future of that organization, as Johnson did at CHS.
During Johnson's career, alleviating hunger became one of his priorities-especially finding funding for summer food programs and local food banks so children wouldn't go hungry when school was out. In 2009, the Greater Twin Cities United Way honored John for his decades of commitment with its award for "Best CEO Involvement." Another of his passions was education. Preparing for the next generations of dedicated agricultural professionals, John enthusiastically supported CHS efforts in youth and leadership development. During his time as CEO, the CHS Foundation, which is funded by charitable contributions, presented more than $2.5 million in scholarships to high school and college students pursuing studies in agriculture.
As a member of the National Council of Farmer Cooperatives (NCFC) Board of Directors for more than a decade, Johnson helped guide the trade organization through turbulent times for agriculture and farmer co-ops, never leaving any question about his commitment to the cooperative model or belief in its huge potential for improving the economic well-being of member-owners.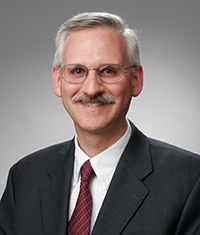 Richard Larochelle, retired Senior Vice President, National Rural Utilities Cooperative Finance Corporation
As a recent graduate from Worcester State College, Richard Larochelle accepted a position with the Rural Electrification Administration (REA), now known as the Rural Utilities Service, an arm of the U.S. Department of Agriculture. During a brief stint as a rate analyst with the Boston Edison Company, he gained a new appreciation for the difference between investor-owned and co-op business models. Having embraced the cooperative business model as a catalyst for bettering the lives of rural Americans, Larochelle in 1984 joined the National Rural Electric Cooperative Association (NRECA) as an economic and policy analyst. He was quickly transitioned to NRECA's Government Relations Department, which he led for a decade as chief lobbyist.
At the time, rural America had largely missed out on the economic resurgence sweeping the U.S. as a whole. Agricultural income had hit some of its lowest levels since the Great Depression and farm foreclosures headlined nightly newscasts. Larochelle knew that electric co-ops had already achieved one of the greatest economic development undertakings in the nation's history-electrifying much of rural America-and believed cooperatives were uniquely positioned to further improve the rural quality of life.
In the early 1990s, Larochelle helped NRECA and its members secure passage of the federal Rural Electrification Administration Improvement Act, which allowed cooperatives to buy out REA direct and insured loans at a discount, eliminating some of the red tape borrowers had previously dealt with.
Larochelle then turned his sights toward the emerging satellite television industry, in which electric co-ops had invested considerable resources. At the time, cable channels were charging satellite providers up to 500 percent more than local cable companies for the same programs, deepening an information gap between rural and urban/suburban America. When President H. W. Bush vetoed Congress' Cable Television Consumer Protection and Competition Act in 1992, Larochelle steered advocacy efforts to successfully override the veto, believing that access to satellite television had the same potential to transform rural America that power lines did in the 1930s and '40s.
In 1996, Larochelle joined the National Rural Utilities Cooperative Finance Corporation (CFC) as director of corporate relations. Two years later, he became CFC senior vice president of corporate relations, where he helped electric co-ops emerge from the deregulation era stronger than ever. While at CFC, he also encouraged the organization to contribute millions to NRECA International, believing that electric co-ops were ideally suited to bring electricity and economic progress to the developing world.
Although retired, Larochelle continues to contribute to the advancement of cooperatives through his service on the Cooperative Development Foundation Board of Directors and involvement with a startup food co-op in his community. In the fall of 2016, the University of Mary Washington offered its first course on cooperative business with Larochelle as adjunct professor, educating a new generation on the benefits of the cooperative business model.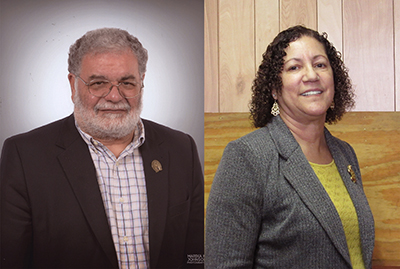 John & Carol Zippert, Director of Program Operations and Cooperative Activist, Federation of Southern Cooperatives/Land Assistance Fund
In 1967, a young couple in St. Landry's Parrish won a milestone lawsuit to become the first interracial couple married in Louisiana. He was in town to register minority voters and integrate businesses following the passage of the Voters Rights Act of 1965. She had earned a coveted spot from Southern Consumers' Cooperative in Louisiana to study cooperatives for three consecutive summers. Partners in both life and the pursuit for racial, social and economic justice in the U.S. South, John and Carol (Prejean) Zippert continue to embody the principles and priorities of the two movements that shaped their lives-the civil rights movement and the cooperative movement.
Father A. J. McKnight, himself a Cooperative Hall of Famer deeply involved in community and cooperative development across Louisiana, first kindled the couple's passion and commitment to the cooperative movement. The same year they were married, the Federation of Southern Cooperatives/Land Assistance Fund was chartered. From the 1960s onward, John and Carol's lives progressed in lockstep with the mission of the Federation and the growth of the cooperative movement in the South.
For 45 years, John has served as the Director of Program Operations for the Federation at its Rural Training and Research Center in Epes, Alabama, where he promotes cooperative economic development for low-income and minority people in ten Southeastern states. In the wake of Hurricanes Katrina and Rita, John expanded the center's reach to include relief work, enlisting cooperatives to help individuals, families and other co-ops recover and rebuild along the Gulf Coast. During his career at the Federation, John has trained staff, mentored countless young people and designed programs to further sustainable small farming and cooperative development. The Federation honored John's dedication with its Staff Award in 1977, 1978 and 1996.
John is a champion of cooperative development, a co-op policy analyst and a cooperative historian currently writing a book about the Federation. His career highlights also include contributions to housing co-ops and affordable housing for low-income people in Alabama. As a member of the Southern Cooperative Development Program staff, he helped former tenant farmers form the Panola Land Buyers Association and buy 1,164 acres of land in 1970. In 1980, the association established a housing cooperative. John also played a critical role in the Southern Grassroots Economics Project, which works to build democratic ownership in the U.S. South and hosts CoopEcon, an annual training institute for cooperative members.
Since 1985, John and Carol have together published the Green County Democrat Newspaper, a weekly publication to inform and educate their primarily African-American community.
In 1985, Carol earned her Ph.D. in Educational Leadership, Supervision and Curriculum Development from the University of Alabama, Tuscaloosa. As a self-described "community worker," she dedicated five decades to building leadership and developing co-ops with the Federation-where she continues to volunteer-as well as supporting grassroots community groups in their work to achieve social transformation. Carol is currently an adjunct research professor and resource specialist for Tuskegee University's Community-Based Youth Partnerships. She has been involved with the 21st Century Youth Leadership movement since its inception in 1986 and continues to serve on its board.
Carol is also president and founder of the Greene Country Employees Federal Credit Union. Under her leadership, one of the poorest counties in the U.S. built a credit union that has accumulated more than $1 million in assets. In addition, Carol's poetry and cultural organizations such as the Black Belt Community Foundation strengthen connections and trust among people, their co-ops and their communities.
The Cooperative Hall of Fame is housed in the offices of the National Cooperative Business Association in Washington, DC, where a permanent collection of commemorative plaques tells of the contributions made by each inductee. The Cooperative Development Foundation administers the Cooperative Hall of Fame. Nominations are received annually and reviewed by a screening and selection committee, each composed of current leaders from the various sectors of the U.S. cooperative movement.
The Cooperative Development Foundation promotes self-help and mutual aid in community, economic and social development through cooperative enterprise. CDF administers a family of funds that provide grants to promote cooperative development and innovation. The foundation also engages in educational programming that both enables networking among cooperative development practitioners and raises awareness about cooperatives in the public policy arena.
For more information about CDF and the Cooperative Hall of Fame, visit www.cdf.coop and www.heroes.coop.