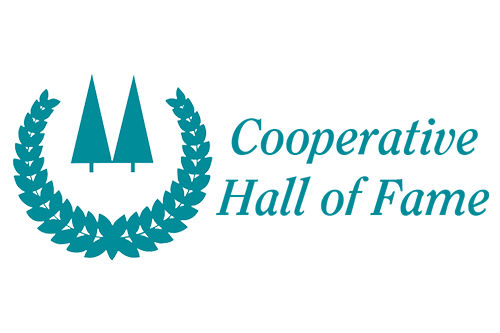 Four outstanding cooperative leaders will receive the cooperative community's most prestigious honor on May 8, 2019, when they are inducted into the Cooperative Hall of Fame.
The inductees are: Terry Appleby, retired General Manager of Hanover Consumer Cooperative Society; Richard L. Ensweiler, retired president and CEO of Cornerstone Credit Union League; Anne Reynolds, former Executive Director of the University of Wisconsin-Madison's Center for Cooperatives; and Richard Stammer, retired president and CEO of Agri-Mark Inc. and Cabot Creamery Cooperative.
These cooperative leaders will be recognized at the annual Cooperative Hall of Fame dinner and induction ceremony at the National Press Club in Washington, D.C., on the evening of May 8, 2019. In conjunction with the ceremony, a public forum on cooperative development and leadership will be held in the afternoon.
"This year's Hall of Fame inductees reflect the very best co-op values. Their life stories inspire us. Their demonstrated commitment to co-op principles and their achievements have strengthened co-ops and made a real and lasting difference in the lives of people and the viability of communities," said Rich Larochelle, chair of the Cooperative Development Foundation, which manages the Hall of Fame.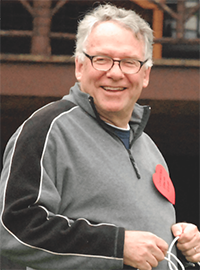 Terry Appleby
If cooperation is a team sport, Terry Appleby can play all the positions. At Hanover Consumer Cooperative Society's stores in New Hampshire and Vermont, he was a familiar face not only in the boardroom, but also in the parking lot—shoveling snow, directing busy holiday traffic or simply stooping to retrieve a customer's dropped banana.
Terry's co-op career began in 1980 as a store clerk at Seattle's Puget Consumers Cooperative, now called PCC Natural Markets. Later, he became part of the management team that helped set that co-op on track to become the largest consumer food co-op in the U.S. with nine locations.
A native of New Jersey, Terry and his family were eager to move back east. In 1992, he accepted the position of General Manager at one of the country's oldest and most esteemed food co-ops the Hanover Consumer Cooperative Society in Hanover, New Hampshire. He filled a four-year gap in management and came on board when employee morale was, unsurprisingly, low.
Under Terry's leadership, Hanover became a beacon in the community, cementing co-ops as a known and trusted business model. During his quarter of a century at the co-op, Hanover quadrupled its store locations and created hundreds of jobs, grossing more than $75 million in annual sales and transforming the regional food economy.
Terry also built critical relationships with local farmers and producers. Small, local suppliers like Edgewater Farm in Plainfield, New Hampshire, were initially skeptical about working with Hanover—they'd felt disadvantaged by wholesale markets in the past—but with Terry at the helm, suppliers were convinced that the co-op had embraced local agriculture. In addition to buying from them, Terry encouraged local farmers to set up purchasing co-ops to get the best prices on inputs like seeds and fertilizer, and even helped them meet new food safety mandates.
Today, Hanover works with hundreds of local producers and sells $13 million dollars of local and regional products, strengthening the economy and environment of Upper Valley communities. Many small farms would no longer be in business were it not for the relationships Terry cultivated and the policies he put in place or advocated for before the board, membership and elected officials.
Terry also helped form National Co+op Grocers, providing steady leadership at a pivotal moment when efforts to launch a national organization for the food co-op sector were faltering. Today, NCG represents close to 150 co-ops operating in 37 states with combined annual sales of more than $2.1 billion. The organization provides critical buying power that enables co-ops of all sizes to be competitive.
In 2015, Terry received the Howard Bowers Award for Cooperative Service at the Consumer Cooperative Management Association (CCMA) Conference—a lifetime achievement recognizing his unparalleled influence on the food co-op sector.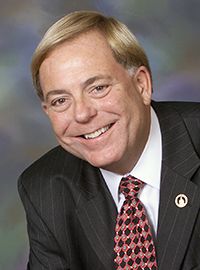 Richard L. Ensweiler
Richard Ensweiler's legendary, 50-year career in cooperative finance began in college, where he planned to score a career in basketball coaching. Instead, he took a summer job at State Central Credit Union. Soon, he was a management trainee headed for the top position at Harley Davidson Credit Union.
In 1995, Richard joined the Texas Credit Union League. Today, it's the largest regional credit union trade association in the country, comprised of more than 540 credit unions that serve close to 9 million members.
In 2013, Richard led an effort to merge the Texas Credit Union League with the Credit Union Association of Oklahoma and the Arkansas Credit Union League, forming today's Cornerstone Credit Union League. At the time, credit union league membership was dwindling and leagues were struggling to provide services. By joining forces to create a larger organization with broader reach, the organization became an influential voice with potential partners, vendors, regulators and national associations.
Richard went on to serve as president and CEO of Cornerstone Credit Union League, Cornerstone Credit Union Foundation and Credit Union Resources for more than two decades.
Throughout his career, Richard was a driving force behind credit union advocacy. He led the effort to build Credit Union House, a facility cooperatively funded by each of the 38 state credit union leagues. Located in the nation's capitol, Credit Union House is a critical hub for the industry's advocacy work.
He was also dedicated to extending the benefits of credit union membership to underserved markets. At Texas Credit Union League, Richard created Juntos Avanzamos ("Together We Advance"), an outreach program focused on serving Texas' Hispanic population. The Richard L. Ensweiler Fund was established to preserve his vision, enabling credit unions to earmark funds for the program. In 1999, Richard even served as an advisor on then President-Elect Vincente Fox's transition team, working to ensure that the Mexican community in the U.S. could transfer funds back to their families through credit unions at substantial savings.
Richard also worked to broaden the scope of international credit union development. He spent time in Brazil studying credit union membership growth strategies, and, in 2008, received the World Council of Credit Unions' Ambassador Award for his work to protect rural credit cooperatives in China.
In 2015, Richard received WOCCU's highest honor, the Distinguished Service Award. In 2017, he was inducted into the Cornerstone Credit Union League Hall of Fame. Also in 2017, the new America's Credit Union Museum Library was renamed the Richard L. "Dick" Ensweiler Research Library in his honor. As a leader, Richard left an indelible mark on cooperative finance, helping millions of Americans reach their financial goals. As an educator and mentor, he inspired generations of credit union professionals to embrace the cooperative principles at the root of the movement.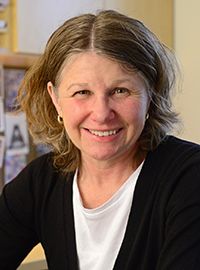 Anne Reynolds
Cooperatives might be the world's "best-kept secret," but Anne Reynolds has spent her career making that secret a little less kept and a lot more accessible.
A fixture of the University of Wisconsin-Madison's Center for Cooperatives—the U.S.'s premier cooperative research center—Anne has contributed significantly to scholarship on cooperatives. Her career has not only spanned co-op sectors, but bridged gaps: between academics and business leaders, between strategic thinking and practical application and across deep ideological and cultural divides.
A native of Madison, Wisconsin, Anne earned her undergrad and graduate degrees from the University of Wisconsin-Madison. In 1987, she put her master's degree in Library Science to work at the Credit Union National Association (CUNA)'s Information Research Center, where she launched a website—at the time, the entire Wisconsin credit union system had only one other online presence.
In 1996, Anne joined the staff of the UW Center for Cooperatives, just as the center was beginning to transfer its internationally renowned cooperative library online. Anne's role at the center transitioned over the years; by 2014, she was Executive Director. The center was a perfect fit for Anne who is at once a global citizen and a loyal Wisconsinite.
Drawing on field research she gleaned in places as far-flung as Costa Rica and France, Anne overhauled a fixture of the university—its course on cooperatives. Her innovative approach involved students in its development and implementation, making it more participatory and practical.
Anne is also the "glue," as several colleagues describe her, holding many long-established conferences together, including the Farmer Cooperatives Conference and the Consumer Cooperative Management Association (CCMA) Conference. Her leadership style—listen first, act second—has made her an ideal event developer and manager able to merge disparate audiences and priorities seamlessly.
While Anne's contributions are respected nationwide and internationally, she left—and continues to leave—an indelible mark on her home community of Madison, Wisconsin, work that earned her the 2016 Badgers' Bioneers Award recognizing efforts to achieve economic sustainability.
Anne is the force behind the Madison Cooperative Development Coalition, a group of 24 community-based organizations, unions and co-ops with a shared interest in economic democracy. The group is currently implementing a $3.2 million City of Madison program that creates jobs and increases equity by developing unionized worker co-ops. Mayor Paul Soglin said she was "deeply committed to creating a more sustainable and inclusive Madison."
An educator at heart, Anne continues to develop and direct workshops on strategic planning and board training and business feasibility with organizations like Cooperative Network and CooperationWorks!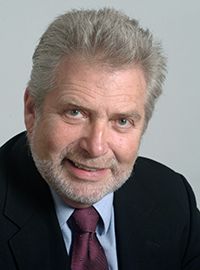 Richard Stammer
A leader in the U.S. dairy industry for half a century, Richard Stammer helped New England dairy cooperatives sidestep bankruptcy with a daring merger that today generates sales approaching $1 billion and helped shape pubic policies to protect the economic interests of the nation's diary farmers.
Richard began his career as a tenured professor of Agricultural Economics at Rutgers University, but left to put theory into practice at a pivotal moment in the dairy industry.
The 1980s and 90s were tough times for the milk industry in New England; family farms were shuttering and dairy co-ops were collapsing. With no value-added products, Agri-Mark was hit hard. At first, it seemed like Cabot Creamery Cooperative would weather the downturn; it was expanding distribution of its branded butter and cheeses. But unstable milk prices persisted, falling 30 percent by the summer of 1991. By 1992, Cabot, too, was on the verge of bankruptcy.
What if Agri-Mark, a cooperative of dairy farmers, merged with Cabot, a creamery co-op with a full line of consumer branded dairy products? Richard, then Vice President and COO of Agri-Mark, effectively made the case for the bold—and fiercely debated—farm-to-market merger. It was the right decision. By the mid-90s, the combined co-op had already realized $90 million in sales.
In 1994, Richard took on the additional role of CEO at Cabot, where his foresight was again rewarded. Under his leadership, Cabot commanded the market for aged cheddars, boosting sales and winning awards, while also positioning itself for what would be the next artisan cheese trend: flavored cheddars. Richard also helped Cabot solve a persistent waste disposal problem by turning a virtually useless byproduct of cheese processing—whey—into milk protein concentrate, now used to boost the protein content of everything from infant formula to sports nutrition products.
Richard's contributions to the dairy industry not only made it more economically viable, but also more sustainable. He helped tell the story of the economic, social and environmental contributions of dairy farms long before corporate sustainability was a buzzword. Cabot became the first dairy co-op in the U.S. to earn the rigorous third-party verification of B-Corp certification by focusing on its triple bottom line. In 2014, Cabot received the U.S. Dairy Sustainability Award for Outstanding Dairy Processing and Manufacturing Sustainability.
While at Cabot, Richard marketed the co-op difference. He put the spotlight on the farmers who owned the brand, focusing on their values and the communities they called home. An early adopter of the .coop domain, Richard helped make meaningful co-op identity a core part of consumer branding.
Under Richard's leadership, Cabot developed programs to celebrate and reward its member-volunteers and recognize the fundamental role of cooperatives in strengthening communities. A series of Cabot Community Tours along the East Coast was just one effort. Traveling along with the tour is Cabot's Gratitude Grille, a full-service traveling kitchen where Cabot chefs cook meals for volunteers.
In 2011, Richard assumed yet another leadership role: CEO of Agri-Mark. Today, he continues to serve the co-op as Senior Executive Vice President on a part-time basis, playing a critical role in dairy industry lawsuits involving Agri-Mark and National Milk Producers Federation.