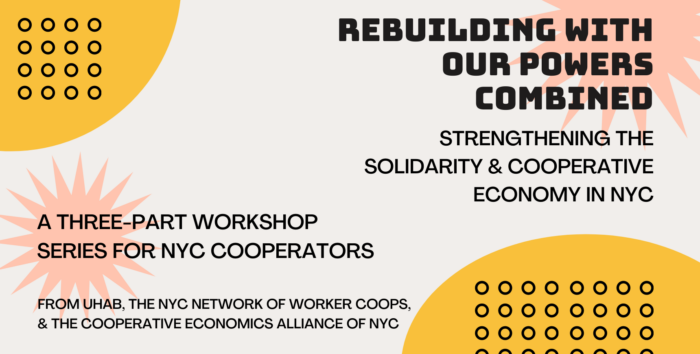 CDF's Cooperative Education Fund supported the Strengthening the Solidarity and Cooperative Economy in NYC: Rebuilding with our Powers Combined workshop series through a grant awarded to the Urban Homesteading Assistance Board (UHAB).
UHAB is a nonprofit that creates, preserves, and supports democratic community-controlled housing. UHAB works for future generations of affordable housing through long-term solutions: developing new affordable co-ops, creating energy efficient buildings and solar power opportunities, and strengthening housing policy.
The 2021, three-part workshop series served as an educational space for cooperators across sectors to identify joint policy efforts, share needs and offerings, and build relationships to bolster cooperation among cooperatives. CDF funding allowed UHAB to pay for staff time and provide simultaneous Spanish and English interpretation services during the workshops. The workshop series was hosted by UHAB, the Cooperative Economics Alliance of NYC (CEANYC), and the NYC Network of Worker Co-ops (NYC-NoWC).
The pandemic revealed the benefits of and need for more cooperation among cooperatives. While workshops such as this strengthened relationships between cooperative organizations, co-op members also need extra support. "Many co-op members are elderly or don't have consistent access to online resources." Shared Clara Weinstein, a UHAB communications specialist. "Being connected to an organization like UHAB was a way to make sure they were able to keep their housing co-ops running and continue to access information and resources."
---
About the Cooperative Education Fund– The Cooperative Education Fund supports cooperative research, sponsors cooperative education events and develops cooperative education materials and programs. The Fund provides $90,000-$100,000 in grants, scholarships, and sponsorships annually. Applications for the 2022 Spring grant cycle must be submitted by May 1, 2022, by visiting https://www.cdf.coop/cooperative-education.