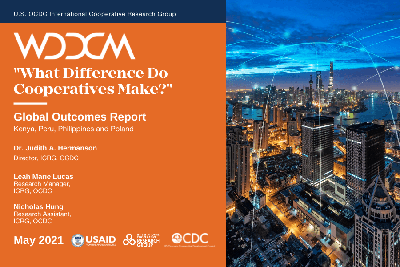 Members of cooperatives in countries spanning four continents are more likely to have above-average incomes, a better sense of overall well-being, improved access to social support systems and, among women, increased independence.
That's the conclusion of a new report by the International Cooperative Research Group, the research arm of the U.S. Overseas Cooperative Development Council (OCDC).
Researchers surveyed more than 8,000 co-op members for four years in Kenya, Peru, the Philippines and Poland to see what difference co-ops of all types, including electric co-ops, made in their lives.
NRECA International has been especially active in the Philippines, helping to spark an electric co-op movement 50 years ago that has resulted in about 120 co-ops bringing power to an estimated 56 million people. NRECA International continues to support the nation's co-ops, providing governance training, best practices and help with recovery from natural disasters.
"As this report shows, co-ops improve the quality of people's lives in communities around the world," said Dan Waddle, senior vice president of NRECA International. "They provide unique economic opportunities for the members they serve."
The report said that co-op members "attribute their improved economic standing to their cooperative membership and the direct and indirect ways that cooperatives support their development."
Co-ops help members increase their prosperity directly through access to credit and higher earnings and indirectly by helping to provide access to financial education, mentors and training.
"The combined result is that members are better prepared to serve as effective business owners and leaders in their communities," the report said.
When asked by researchers if co-ops benefited their households economically, the percentage of members who said yes ranged from 71 percent in Poland to 94 percent in the Philippines. Even most non-members said that co-ops contributed to economic development in their communities. In addition to electric co-ops, the report included co-ops that focus on providing affordable housing or loans for small businesses.
"Cooperatives offer a socially conscious business model, inherently concerned with community well-being," the report said. "Members of a cooperative are also active members of their communities. Cooperatives allow members to work together and learn from one another, improve themselves, and pool their knowledge and resources to advance their household and community prosperity."
Women in particular benefit from the presence of co-ops in their communities.
"Women members gain independence and agency from cooperative membership," the report said. "Cooperatives offer training, support, and leadership opportunities to women, with wide-reaching impacts on their well-being."
Female co-op members in all four nations had higher-than-average incomes compared with other women in their countries, the report showed.
"This demonstrates that cooperatives can help to diminish the gender gap globally," the report concluded.
Co-op members also reported having stronger overall trust in their communities. The difference was greatest in Poland, where 66 percent of members said that most people in their community can be trusted, compared with 41 percent of non-members.
"Across the board, economic reasons are the primary motivation for people to join cooperatives," the report said. "However, the data show that valued cooperative benefits extend beyond the impacts on income and include social and community advancements."